Arsene Wenger: Arsenal fan Dermot O'Leary on his tears of pride & sadness over departing manager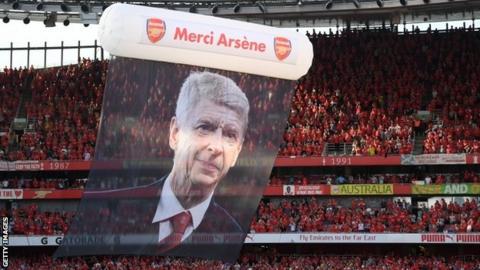 I won't lie to you, I cried last Sunday – twice.
I knew I was going to. The first came as our manager of 22 years was applauded onto the pitch pre-match through a guard of honour in the bright May afternoon sunshine (my sunglasses luckily masked this, and I might have muttered something about hay fever).
By the second time though, the tears were proud, wistful and 60,000 strong. It was like we'd all watched the end of The Shawshank Redemption en masse.
For once, nobody left early to beat the notorious traffic, and the attendance announcement didn't lie. The place was packed and nobody was going anywhere fast.
Arsene Wenger, in turn, graciously strode out to the centre circle, arms aloft, to give and receive the thanks and respect he has deserved for so long, but has at times (at least in the case of the latter) been cruelly lacking.
After a 5-0 walloping of our 'nearest rivals' Burnley – a relatively unimportant but emotionally crucial win – for one final time he was embraced like the departing semi-conquering hero he is.
'All I've ever known'
For someone who has been an Arsenal fan since the age of five, it's odd that in many ways the only manager I've ever really known is Wenger.
I've been an Arsenal fan since 1978, when I watched the team I have come to love go down to an inspired Ipswich Town 1-0 in the FA Cup final.
With both parents moving over from Ireland, and having little if any allegiance to any team or area, I pretty much had my pick.
At the time, most kids where I grew up supported Ipswich, who were enjoying an incredible period – but I chose the Gunners.
First, I thought they were the underdogs. I wasn't a bright child and, more importantly, Arsenal were a big London Irish team – both on and off the pitch – so they suited my upbringing and identity perfectly.
But spending every second weekend in London didn't mean I got to see them regularly.
My family were born and bred in the sports of GAA, so growing up I was more likely to be watching my dad hurling on the fields that will be forever Ireland of Ruislip and new Eltham.
My grandad wouldn't even let me watch 'English' sports, including, oddly, athletics!
By the time I could scrounge tickets to see Arsenal, it was the late George Graham/early (I don't think there was another era) Bruce Rioch period.
I went along happily, and by that I mean I was happy to be there. Highbury was such a glorious ground to watch football, and to rub my eyes and watch Dennis Bergkamp and Ian Wright in their pomp quickly became more than a novelty. It was love.
But to all intents and purposes, I've only really ever known Wenger as our manager. Which is, I guess, why the love, respect and admiration runs so deep.
So much is made of the 'Arsene who?' reaction that, in truth, we ALL had when he turned up at the club in 1996.
But he did so much more than just make sure Wright and Paul Merson put down the Mars bars and started eating broccoli (the pair of them treating the vegetable like Wenger had brought it from outer space).
He took a very gifted, but aging, team and added a belief, drive and deft hand in recruitment that saw a still big club win three titles quickly, including two Doubles and our Invincibles year.
It seemed the success would be never ending. We got drunk on it – and then the world changed.
'The footballing world changed'
As the era of English football went from the time of the honest pro to the world of the remote, media-trained, PR-controlled global superstar, young, understandably ambitious men had their heads turned while ruthless agents plundered.
Maybe with the stadium move his hands were tied, maybe he didn't react quickly enough, maybe he thought he could carry on and find the gold for £500,000 here, £3m there.
Whatever happened, the magic stopped working and we started watching the same movie year after year. There were a few great players, but a fragility had set in and somehow didn't go away: an early-season flourish was followed by a late winter slump that saw us crash out of the FA Cup and the Champions League, and then there was the desperate dash to finish fourth.
Although a recent respectable run of three cups in five years is nothing to be sniffed at, we all know we haven't been competitive enough in the league for quite some time.
One of my favourite Wenger stories is one he tells of when he dies and goes to heaven, God will ask him: "And what did you do?"
"Well, I tried to win football games,' Wenger replies. "That doesn't sound too hard," God says. And Wenger replies again: "Well, I get that a lot – but it's not as easy as it looks."
The problem is that with the immediacy and 'Fifa-isation' (that's a real term, by the way) of the modern football fan, there is no room for barren periods any more. We now live in a world of extremes.
Players and managers are either awful or they are brilliant. Fans expect unconditional loyalty one way, but feel well within their rights to boo – and a lot worse – to high heaven when it's not going our way.
There's a lot made of the game moving on and him being left behind. If that is true (and I'm not sure for the most part it is) then it's been in one main area: money.
Wenger has always seemed like he has seen himself as a steward to this club, part of its DNA. Now we are as much the club he has built as vice versa – but if he has been left behind it's by the perverse amount of money swimming around the game today.
I read a great comparison once which likened him to a German in the Weimar Republic who ordered a steak in a restaurant and nipped to the toilet, only to find on his return that the price had gone up 30,000 Reichsmarks.
He simply didn't seem to respond to the economics of the modern game. He seemed aghast by the prices – and who wouldn't be?
The problem is that the money is there and if you don't compete then someone else will – and they have.
Yes, some of those models have been artificially created and bolstered by Russian and Middle Eastern oil money and nobody questions that Wenger knows more about football than most fans (by his own admission, it's all he does and is probably watching a Congolese second division match as we speak), which makes a lack of spending even more infuriating when it was obvious what we were lacking on the pitch.
The Wenger model of how to manage footballers is all about empowerment – the carrot and not the stick. Let the players go out there and express themselves to the best of their ability and that holistic and artisanal approach will win out.
However, this model is predicated on those players being up to the task in the first place.
Virtually every one of those Invincibles comes across like a well-rounded, emotionally grounded and intelligent human being. Those kinds of footballers are the exception not the rule, which makes Wenger's mode of success so hard to maintain.
'The right time to go?'
It was probably the right time for Wenger to go. Actually, that's not true. The day which would have done his incredible legacy justice would have been 27 May 2017 when we upset the odds and defeated Chelsea, both physically and tactically, and he won a record seventh FA Cup and the club's 13th.
I have no problem with people who said we needed a change, because we did.
There's no hypocrisy in praising the man while also wanting a new direction, and as sad as I am to see a proud, stalwart of the game go, I am also excited to see what comes next.
So, now the grass has settled in N5 – sadly without the Europa League finale in Lyon – his swansong heads off for a final, slightly anticlimactic roadshow at Huddersfield, a club that have always had a strong historical connection to Arsenal's other great manager, Herbert Chapman.
I feel sadness. I am a romantic and the idea of a manager being with a club for 22 years appealed to the sense of tradition I love and fast see disappearing in the modern game.
But my overall emotion is simply of pride at a manager who has changed a club beyond all recognition, but still retained their tradition and values.
Has Wenger been perfect? No. But he has done nothing but devote a large chunk of his working life to make the club now so imbued with his DNA a success.
So thank you, Arsene.