Arrested Development stars slammed for mansplaining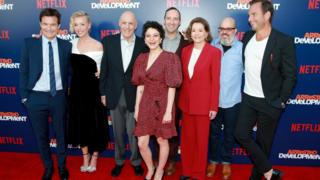 Jason Bateman and other cast members of Arrested Development have been criticised online for minimising the upset caused to fellow star Jessica Walter during a New York Times interview this week.
Fans of the American TV series love its wacky, dysfunctional Bluth family, but after real-life tensions among the cast emerged, social media has reacted strongly.
Bateman is being heavily criticised after he, Will Arnett and David Cross appeared to play down claims of harassment made by Walter.
They suggested instead such behaviour was a normal part of life on set.
Bateman apologised on Twitter on Thursday.
The hashtag #ArrestedDevelopment has been used almost 20,000 times in reaction to the piece, which was published on Wednesday in advance of the release of a new series of the cult show on 29 May.
Walter, who plays matriarch Lucille Bluth, described to the New York Times through tears an incident in which co-star Jeffrey Tambor verbally harassed her, claiming nobody had ever treated her like that on set.
Much of the criticism centres on interactions between Walter and Bateman. As Walter described the incident, Bateman told her that harassment happens all the time and appeared to excuse Tambor's behaviour.
Fans accused him of "mansplaining" the film industry to Walter, a veteran actress who won the Golden Globe for best new actress in 1967 when Bateman was two years old.
Editor Tasha Robinson wrote that several male cast members tried to "manage" Walter as she explained how upset she had been.
Cast members were also accused of 'gaslighting' Walter, a term which refers to psychological manipulation with the aim of making someone doubt themselves or question their version of events.
"What strikes me about this exchange is how many times Jessica Walter has to clarify and reiterate that no one has ever spoken to her as inexcusably as Jeffrey Tambor has, because the rest of the cast repeatedly interrupt her to downplay it," wrote journalist Kevin Fallon on Twitter.
You may also like:
Some fans said the interview lifts a lid once more on a culture of sexism in Hollywood, giving a stark reminder that the #MeToo and #TimesUp movements did not solve issues of gender inequality.
"I'm glad people get to see, at least once in a while, what it's really like for women in Hollywood. 99% of your fave dudes are problematic," tweeted film director Lexi Alexander, who has spoken publicly about lack of opportunities for female directors.