Arrested 70 suspected members of Islamic State in Turkey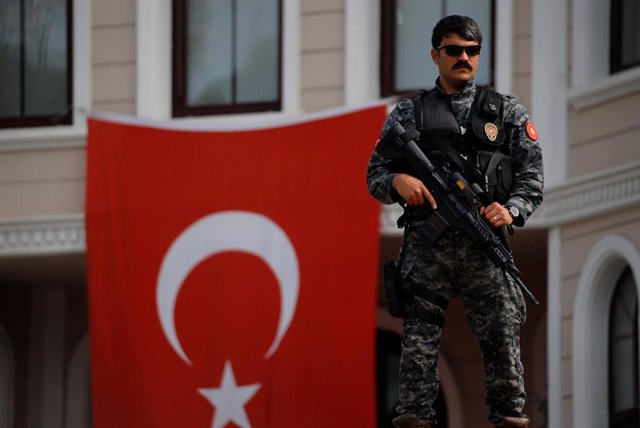 A Turkish policeman deployed before the presidential palace in Istanbul – REUTERS / ALKIS KONSTANTINIDIS – Archive
ISTANBUL, Dec. 30 (Reuters / EP) –
The Turkish Police arrested 70 people on Monday allegedly related to the Islamic State terrorist group in raids across the country on New Year's Eve, as reported by the state agency Anatolia.
The Turkish authorities have already carried out arrests of suspected jihadists at the end of December in the last two years, after the New Year attack in 2017 when a militiaman allegedly a member of the Islamic State killed 39 people in a nightclub in Istanbul.
Anti-terrorist agents have intensified intelligence activities and carried out operations in the central provinces of Ankara, Kayseri and Adana, as well as in Batman, in the southeast, according to Anatolia.
Some 400 agents have participated in the operation carried out at 5.00 hours in Batman, during which 22 people have been arrested in simultaneous searches in several homes, during which they have also seized weapons, ammunition and documents.
Among those detained in Ankara are 30 Iraqis, two Syrians and a Moroccan. On the other hand, nine Iraqis who had operated in Syria and Iraq have been arrested in Kayseri, while four Syrians and two Iraqis have been arrested in Adana, always according to the aforementioned source.
The Turkish Government has promised that it will repatriate most of the Islamic State detainees to their countries of origin before the end of the year. Ankara has accused his European allies of being too slow to receive back their citizens who traveled to the Middle East to fight in the ranks of the Islamic State.