Arreaza condemns the creation in Peru of a special Police unit to "persecute migrants"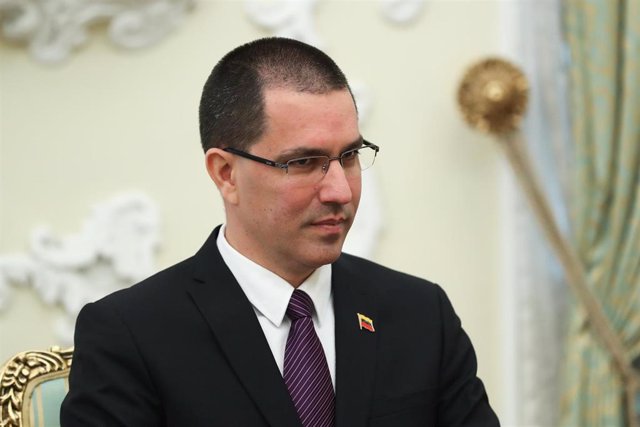 Venezuelan Foreign Minister Jorge Arreaza. – – / Iranian Presidency / dpa
MADRID, Jan. 24 (EUROPE PRESS) –
The Venezuelan Foreign Minister, Jorge Arreaza, on Friday condemned the creation by the Peruvian authorities of a special police unit that, as indicated, will be used to "prosecute migrants."
In a statement released through his account on the social network Twitter, the Venezuelan minister has assured that the unit will constitute a "very serious violation of Human Rights" and has taken the opportunity to denounce before the international community the creation of the "elite group" that "will persecute the Venezuelan migrant population" for being allegedly "responsible" for the increase in crimes in Peru.
Thus, he has argued that it is an act of xenophobia that promotes discrimination against Venezuelans in the neighboring country. "It is a degrading and dangerous act that contravenes international norms in respect of respect and protection of migrant populations," the text states.
"The Government of the Bolivarian Republic of Venezuela categorically repudiates and reports to the world and international organizations for the defense of Human Rights the infamous statements made yesterday by the Government of the Republic of Peru, through its Minister of Interior, Carlos Morán, against the Venezuelan migrant population residing in that country, "he explained.
The minister said that Venezuela has received thousands of Peruvian migrants over the years who have been welcomed "with affection and solidarity", guaranteeing the protection of their human and social rights.
"Venezuela requires the Government of Peru to fulfill its international obligations and cease the already frequent promotion of the hatred of its authorities against the Venezuelan gentilicio. The responsibility of a State to fight crime cannot be an excuse to criminalize foreign citizens," he said. cleared up.
Arreaza has also informed that Caracas will raise the complaint, accompanied by other acts of discrimination against its migrant population, before the corresponding international organizations considering that the elements of conviction that make up the commission of crimes against humanity against citizens are "evident. Venezuelans and Venezuelan citizens abroad. "
The Peruvian government, in the announcement of the creation of the new police unit, said on Tuesday that the objective is to combat crime by migrants in the face of the increase in crimes committed mainly by Venezuelan citizens.