Ariana Grande says she has PTSD after Manchester attack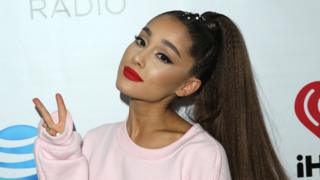 Ariana Grande says she doesn't think she'll ever be able to talk about the Manchester Arena bombing without crying.
The singer had just finished her concert on 22 May 2017 when a suicide bomber detonated an explosive device.
The attack killed 22 people.
In an interview with British Vogue, she revealed how she's coping with the symptoms of post-traumatic stress disorder (PTSD) following last year's attack.
"It's hard to talk about because so many people have suffered such severe, tremendous loss. But, yeah, it's a real thing."
"I know those families and my fans, and everyone there experienced a tremendous amount of it as well.
"Time is the biggest thing.
"I feel like I shouldn't even be talking about my own experience – like I shouldn't even say anything.
"I don't think I'll ever know how to talk about it and not cry."
What is PTSD?
Post traumatic stress disorder, or PTSD, is an anxiety disorder, caused by very stressful, frightening or distressing events.
The NHS says that someone with PTSD may often relive the traumatic event through nightmares and flashbacks.
Sufferers may experience feelings of isolation, irritability and guilt, have problems sleeping and find it hard to concentrate.
All these symptoms can have a significant impact on the person's day-to-day life.
Ariana Grande features on the cover of the July 2018 issue of the magazine.
Last month she revealed she had a bee tattoo as tribute to the victims of the bombing.
The worker bee is an emblem for Manchester, symbolising the city's industrial past.
If you think you may have been affected by PTSD, there's more help and information on the Radio 1 advice pages.
Follow Newsbeat on Instagram, Facebook and Twitter.
Listen to Newsbeat live at 12:45 and 17:45 every weekday on BBC Radio 1 and 1Xtra – if you miss us you can listen back here.