Ariana Grande: Manchester Arena attack showed 'the worst of humanity'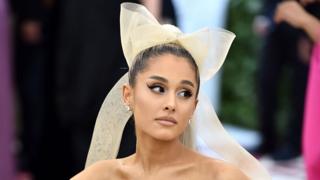 Ariana Grande has spoken in detail for the first time about the Manchester Arena bomb attack last year.
Speaking to Time, she said: "There are so many people who have suffered such loss and pain. The processing part is going to take forever."
Last May, 22 people were killed and hundreds were injured in the bombing after Grande's concert at the city centre venue.
The US singer described the bombing as "the absolute worst of humanity".
'Heavy on my heart'
"Music is supposed to be the safest thing in the world," she told the magazine, for its Next Generation Leaders edition.
"I think that's why it's still so heavy on my heart every single day. I wish there was more that I could fix."
The attack on 22 May 2017 also left more than 800 people with physical and psychological injuries.
The 24-year-old, who staged the One Love concert in Manchester less than two weeks later, said the attack was "the absolute worst of humanity".
"That's why I did my best to react the way I did," she added.
"The last thing I would ever want is for my fans to see something like that happen and think it won."
"You think with time it'll become easier to talk about," she continued.
"Or you'll make peace with it. But every day I wait for that peace to come and it's still very painful."
Grande said she was proud of her new track No Tears Left to Cry, a song about resilience.
"When I started to take care of myself more, then came balance, and freedom, and joy," she said. "It poured out into the music."
Speaking about the video for the song in which she is seen upside down, she said: "We've messed with the idea of not being able to find the ground again, because I feel like I'm finally landing back on my feet now."
'Can never sing songs again'
Scooter Braun, Grande's manager, told Time that shortly after the tragedy, he told the singer: "We need to get a concert and get back out there."
He said: "She looked at me like I was insane. She said, 'I can never sing these songs again. I can't put on these outfits. Don't put me in this position.'"
They then cancelled the rest of the tour but she got in touch with him two days later to say: "If I don't do something, these people died in vain."
The outcome was the Manchester benefit gig, One Love Manchester, which along with Grande, featured artists such as Justin Bieber, Coldplay and Katy Perry.
"We put a lot on her shoulders," Braun says. "And she took over. You know, for the rest of her life, she can say that she is exactly who she claims to be."
Her new album is called Sweetener, because Grande wanted to tell fans that a bad situation could be improved.
She said: "When you're handed a challenge, instead of sitting there and complaining about it, why not try to make something beautiful?"
---
Follow us on Facebook, on Twitter @BBCNewsEnts, or on Instagram at bbcnewsents. If you have a story suggestion email entertainment.news@bbc.co.uk.