Arctic walrus spotted in North Ronaldsay and Sanday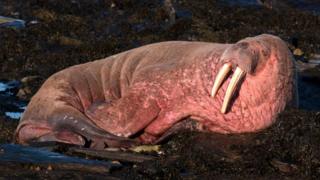 Five years after the "once-in-a-lifetime" sighting of a walrus in Orkney, a second animal has been spotted there.
The blubbery mammal was spotted by Lewis Hooper, a volunteer at North Ronaldsay bird observatory.
He told BBC Radio Orkney: "It turned and looked at me with these nice tusks coming down. And that was when it really sank in."
The walrus was photographed again on the island of Sanday.
Mr Hooper said it is not thought to be the same individual that was seen in March 2013, though it is the same species.
"I'd just decided to take the dog out in the evening, so we were walking along the coast and there was a group of gulls so I was having a look at them.
"I saw a big hump come out of the water, which I thought was maybe a small whale.
"I sprinted round the coast, and as I got to the edge of the coast I scanned along and it was actually sat on the beach.
"I'm no mammal expert, but it was pretty obvious what it was. It was clearly, clearly a walrus."
Mr Hooper said the last walrus found in North Ronaldsay only stayed in the area for about a day so it was only seen by people living locally.
But he said there had already been interest from people who want to travel to Orkney in the hope of seeing the animal.
Sanday ranger Emma Neave-Webb, of Sanday Development Trust, said: "My job here is very much looking after the local – and not so local – wildlife. A wonderful job, made all the better by sightings like this.
"This has certainly been the wildlife highlight of my time on Sanday so far – so exciting to see such a magnificent animal so close."