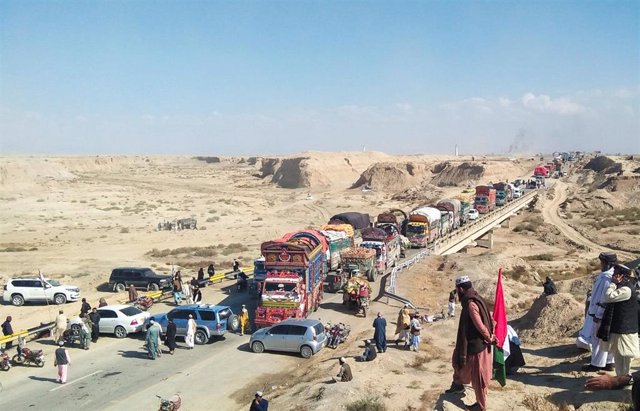 Highway blocked in western Pakistan by anti-government protesters in the framework of protests for the Freedom March – REUTERS / STRINGER.
ISLAMABAD, Nov. 13 (Reuters / EP) –
Anti-government protesters have managed to block a major highway in western Pakistan on Wednesday, an action framed in their mobilizations to try to dislodge the current prime minister, Imran Jan.
Anti-government protesters block a key highway in western Pakistan
The protest campaign, led by the leader of the conservative party Jamiat Ulema and Islam (JUI-F), Fazl-ur-Rehman, began with the so-called first phase of the Freedom March (Azadi) on October 27, starting from the town of Karachi, in southern Pakistan.
Within the framework of this mobilization, tens of thousands of protesters arrived on October 31 in the capital of Pakistan, Islamabad, where they have been making a sitting on the main highway to demand the resignation of Jan and the call for early elections for alleged fraud Electoral and for the economic mismanagement of the Executive.
Workers with flags of the JUI-F party have blocked the highway that connects Quetta with Chaman in western Pakistan on Wednesday, causing long lines of trucks loaded with goods, as shown by the images of television networks.
This new protest sit-in was announced by Rehman late Tuesday in a speech to his followers in Islamabad. "I announce a plan B from tomorrow," he said. This mobilization plan includes the blockade of several highways to end a blockade throughout the country, according to the press Akram Durrani, a leading leader of the JUI-F.
Rehman is a veteran political leader who can mobilize significant support in religious circles throughout the country. His campaign is the first concerted by the opposition to challenge Prime Minister Jan, who came to power with the promise of ending corruption and creating jobs for the most disadvantaged classes.
The mobilizations come at a time when the Government is fighting high inflation and maneuvering to try to revive a troubled economy. Jan launched a platform for economic reforms but his Government, as happened with previous executives, has been forced to request a ransom of 6,000 million euros from the International Monetary Fund (IMF).
The opposition maintains that the Government that Jan leads is illegitimate and that it is being backed by the Armed Forces, which have had a decisive weight in the country's recent history and that set the main lines in defense and security policy.