Announce a new curfew for Santiago and other regions affected by protests in Chile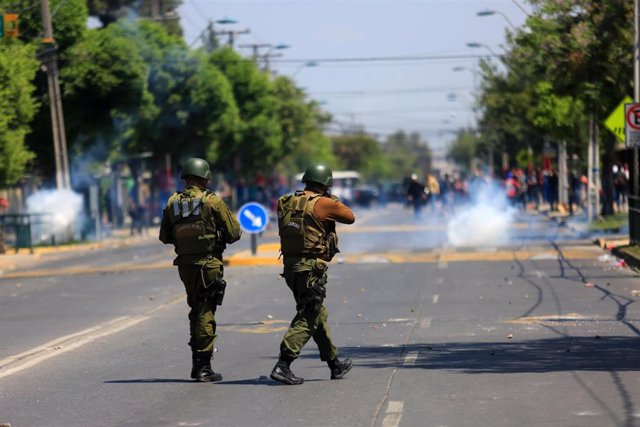 Riots during demonstrations in Santiago, Chile – JOSE FRANCISCO ZUÑIGA / JF IMAGE PRO / JOSE FRANCI
MADRID, Oct. 20 (EUROPE PRESS) –
The general in charge of the state of emergency in Chile, Javier Iturriaga, has announced a new curfew for Santiago, which also advances three hours until 7 pm, and for the regions of Valparaíso and Concepción.
"I ask everyone to go to their homes and have a normal day tomorrow as possible," Iturriaga said in an appearance collected by the newspaper 'El Mercurio'.
"I am convinced that this is the right thing to do to protect people's lives, to protect citizens, the vast majority of the city that wants to live in peace and normalcy," he added.
"I ask everyone to organize and go home. Rest and tomorrow we can face a normal work week as possible. So, please, the vandals that are on the street, we will act against them to avoid that people continue to suffer and may be affected especially integrity, "he warned.
In Santiago the curfew will be like this from 7:00 p.m. to 6:00 a.m. on Monday. In the case of the Biobío and Valparaíso regions, the curfew will begin at 8:00 p.m.
On the other hand, the mayor of the Santiago Metropolitan Region,
Karla Rubilar, has announced that contacts with the Minister of Education, Marcela Cubillos, and the mayors of the area, classes are suspended in 43 of 52 municipalities in the Metropolitan Region.
On the other hand, the Prosecutor's Office is already investigating the shots fired by the military during a looting in the early hours of this Sunday in the Puente Alto neighborhood of Santiago, Chile.
A group of soldiers surprised a group of looters and one of the soldiers fired after one of the individuals threatened to run him over. A neighbor outside the looting has been shot and is hospitalized with a very serious prognosis at the Sótero del Río Hospital.