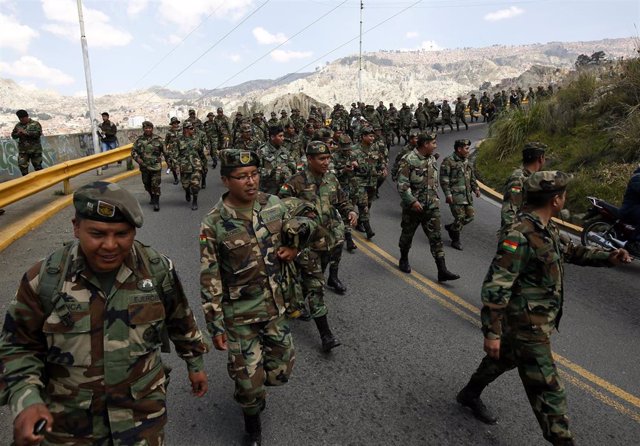 Bolivian military. – REUTERS – Archive
MADRID, Nov. 29 (EUROPE PRESS) –
The Government of Jeanine Áñez in Bolivia has revoked this Thursday the decree that exempts the Armed Forces from criminal responsibility for the acts committed during the protests recorded after the elections of last October 20 "thanks to the pacification of the country" .
Áñez, who has announced the repeal of Supreme Decree 4078, which exempted the military from criminal responsibility for their actions in the operations of restoring order, explained that it was then necessary "to turn to the Army for the convulsive days that were lived in cities like El Alto, Cochabamba and Santa Cruz. "
Thus, he stressed that now that peace has been returned to the streets, the norm has been "repealed." "We have decided to repeal Supreme Decree 4078. This determination has been taken into consideration that thanks to God and to the compression of all sectors of the country we have achieved the desired pacification," he said during a speech at the Burned Palace.
Article 3 of Supreme Decree 4078 states that the FFAA staff "will be exempt from criminal responsibility when in compliance with its constitutional functions acts in self-defense," as reported by the local newspaper 'The Duty'.
Áñez has taken the opportunity to remember that the norm is a constitutional resource that governments have at their disposal and that they can use when the security of the State and citizens are threatened by violence.
The repealed rule was approved on November 15 after clashes between coca growers, police and military registered in the municipality of Sacaba, in Cochabamba.
"Our Government had to resort to a measure of these characteristics because it faced violent actions that we had never seen before in our history and that we never want to see again," he has justified.
The political crisis in Bolivia broke out after the presidential elections of October 20, in which the now former president Evo Morales proclaimed his victory but the opposition denounced a "gigantic fraud." The Organization of American States (OAS) audited the electoral process in which it found "irregularities."
Morales resigned on November 10 and fled to Mexico. Jeanine Áñez, second vice president of the Senate, proclaimed herself interim president to fill the power vacuum left by the former president and the resignation of other senior officials.
Neither Morales nor his followers recognize Áñez because they believe that his stay at the Burned Palace is the result of a "coup d'etat". She, for her part, has asserted that she will only be in office for the time necessary to call new elections.