Áñez promulgates the law for new general elections in Bolivia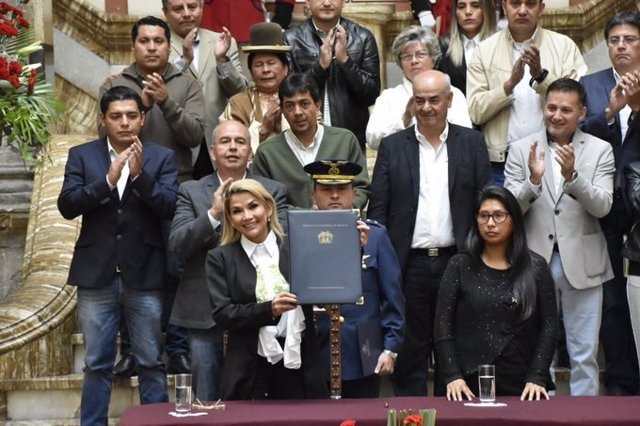 Jeanine Áñez at the presentation of the call for elections for Bolivia – ABI
Evo Morales and Álvaro García cannot be candidates
MADRID, Nov. 24 (EUROPE PRESS) –
The self-proclaimed president of Bolivia, Jeanine Áñez, has promulgated this Sunday the Law of Exceptional and Transitional Regime for the realization of General Elections already approved in the two houses of Parliament with a view to holding elections. The rule provides that the former president and former vice president, Evo Morales and Álvaro García, may not be candidates.
"The law that we have just promulgated is the law that we Bolivians want and by that law we have taken to the streets and roundabouts to peacefully express our decision to repudiate the way in which the previous government tried to manipulate the will of all of us, therefore, a scandalous fraud, "said Áñez in an event at Palacio Quemado, collected by the official news agency, ABI.
For Áñez, this is one of the goals proposed by his Government. However, he stressed that it has not been easy because consensus had to be built so that the law was passed unanimously, as Parliament maintains a majority of the Socialist Movement of the resigned President Evo Morales.
Áñez has thanked the legislators of the political forces this progress towards "a new social pact and the construction of a true democracy". "The law establishes deadlines from today to elect a new electoral tribunal. This electoral tribunal will not be the result of obscure machinations as did the Government of former President Evo Morales. This tribunal must be composed of the best men and women in the country ", he has argued.
The Plurinational Legislative Assembly will carry out a new election process for members of the Supreme Electoral Tribunal within a maximum period of up to twenty days from the approval of the regulations.
The new members, elected for a term of six years, must issue the call for general elections in the following two days, so the elections will be held within a maximum period of 120 days from the call. This process will have the advice and technical and economic support of the EU and the UN.
The rule establishes the annulment of the general elections of last October 20 and once the new elections are held, Áñez must hand over the power within 15 days.