Áñez hopes to be able to call new presidential elections in Bolivia this Wednesday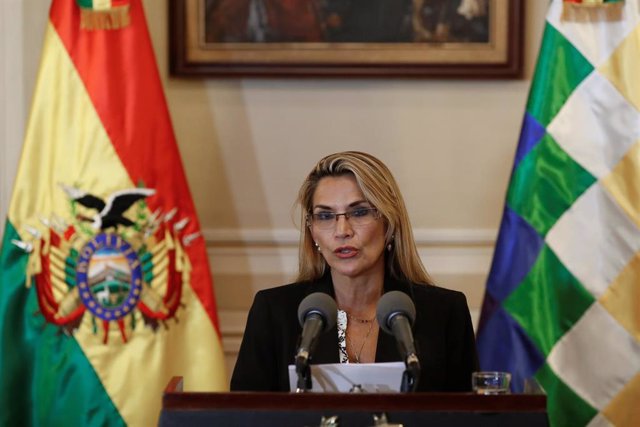 The self-proclaimed interim president of Bolivia, Jeanine Añez – REUTERS / CARLOS GARCIA RAWLINS
MADRID, Nov. 20 (EUROPE PRESS) –
The self-proclaimed interim president of Bolivia, Jeanine Áñez, has hoped that this Wednesday she can call new presidential elections, if the Legislative Assembly approves the bill sent by the Government with this objective.
The draft has been presented this Wednesday in the Senate, whose head, Eva Copa, has sent it to the Constitution, Human Rights, Legislation and Electoral System Commission, thus initiating the parliamentary process.
"If God allows it, today in the morning we will launch the call for elections, as the whole country is demanding," said Áñez, trusting that the Legislature will accelerate its efforts, as reported by the news agency ABI .
Áñez has been willing that the bill "can be corrected, agreed, enriched by all sectors that are involved in the logic of pacifying the country and electing its rulers."
However, he has warned that, if the Government does not find support in Congress, he will call the polls via decree. "If the Legislature does not allow us to do it in that legal way, then we will look for other mechanisms, but elections will be there," he said.
The crisis broke out after the presidential elections of October 20, in which Evo Morales proclaimed his victory but the opposition denounced a "gigantic fraud." The Organization of American States (OAS) audited the electoral process in which it found "irregularities."
Morales resigned on November 10 and fled to Mexico. Áñez, second vice president of the Senate, proclaimed herself interim president to fill the power vacuum left by the former president and the resignation of other senior officials.
Neither Morales nor his followers recognize Áñez because they believe that his stay at the Burned Palace is the result of a "coup d'etat". She, for her part, has asserted that she will only be in office for the time necessary to call new elections.