Áñez approves a law to extend the term of the TSE to call elections in Bolivia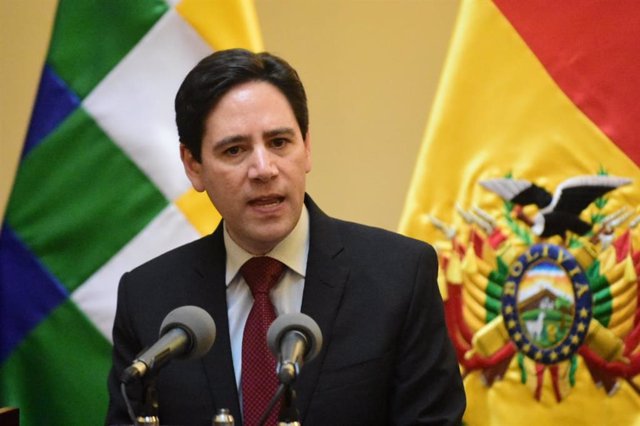 The new president of the Supreme Electoral Tribunal of Bolivia, Salvador Romero. – Diego Valero / ABI / dpa
Salvador Romero, elected president of the TSE of Bolivia
The self-proclaimed interim president of Bolivia, Jeanine Áñez, has approved on Friday a law that extends the deadline for the Supreme Electoral Tribunal (TSE) to call elections in the country.
Specifically, the TSE now has ten days to launch the call for elections, instead of the initial 48-hour period that the agency had since the new members took office.
"The law that we are enacting today is the result of coordination between the Assembly, the Supreme Electoral Tribunal and the Executive … we are working to conduct clean, fair and transparent elections," said Áñez, according to collected the Bolivian news agency ABI.
"We do all this because we want the national and subnational elections to become a democratic party and recovery of the value of our vote, and not a nightmare, as happened in October with the monumental fraud of the previous Government of Evo Morales" , has added.
Salvador Romero and María Angélica Ruiz Vaca were elected Friday as president and vice president of the Supreme Electoral Tribunal (TSE) of Bolivia.
Romero is the vocal representative of the current Government of Bolivia, and was appointed by the country's interim president, Jeanine Áñez, on November 26, according to the local newspaper 'Página Siete'. He was vocal and president in the extinct National Electoral Court (CNE) and also director of the National Democratic Institute in Honduras.
Meanwhile, Ruiz Vaca is a lawyer specializing in Women's Human Rights and Administrative and Regulatory Law. He worked in the Electoral Departmental Court of Beni in 2005 and in the CNE from 2002 to 2008.
After electing the leaders of the TSE, whose 12 regular members and alternates took possession of the presidents of the chambers of the Senators and Deputies of Bolivia, Eva Copa and Sergio Choque, respectively, the entity has initiated the 2020 electoral process of facing the new presidential elections.
The political crisis in Bolivia broke out after the presidential elections of October 20, in which the now former president Evo Morales proclaimed his victory but the opposition denounced a "gigantic fraud."
The Organization of American States (OAS) has concluded in its final report that in the elections there was "malicious manipulation" and "partiality", as well as "serious irregularities", such as "lack of protection of the minutes" and the loss of "sensitive material".
Morales resigned on November 10 and fled to Mexico. Jeanine Áñez, second vice president of the Senate, proclaimed herself interim president to fill the power vacuum left by the former president and the resignation of other senior officials.
Bolivia is now preparing to celebrate new ones in which neither Morales nor his vice president, Álvaro García Linera, will be able to participate, according to the agreement to which his party, the Movement To Socialism (MAS), and the Government of Áñez have arrived in Congress .