Áñez appoints the first member of the new Electoral Tribunal after the agreement in Congress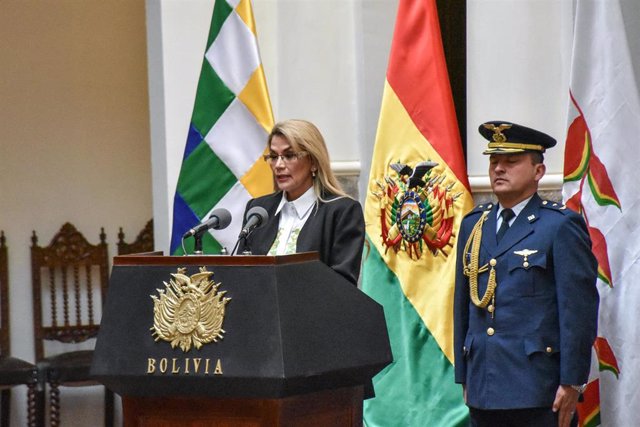 The self-proclaimed interim president of Bolivia, Jeanine Áñez – – / ABI / dpa
MADRID, Nov. 25 (EUROPE PRESS) –
The self-proclaimed interim president of Bolivia, Jeanine Áñez, has appointed on Monday the first member of the new Supreme Electoral Tribunal (TSE), in accordance with the law passed by consensus in Congress to end the political crisis suffered by the country since the elections October 20 presidential elections.
Áñez has already taken oath to Salvador Romero Ballivián as a member of the TSE, in an act that has been held in the Government Palace before members of the Executive and the Legislative.
"I have the great satisfaction of introducing Dr. Salvador Romero Ballivián, who has been appointed as a member of the Supreme Electoral Tribunal on behalf of the executive branch," said Áñez, according to the official news agency ABI.
The acting president has highlighted Romero Ballivián's extensive experience in the electoral field, stating that he will be "a guarantor of the cleanliness of the coming electoral process".
"The Bolivians ask for clean, fair and transparent elections and … my Government will take the necessary determinations to support an integral electoral process," he said.
The new member of the TSE, on the other hand, has considered that "it is necessary to find the authentic mission of the Electoral Tribunal as an independent institution of the powers and parties, guarantor of processes (…) that lead to true results on which build legitimate governments. "
Deputies and senators both related to Áñez and former Bolivian president Evo Morales reached an agreement over the weekend to pass a bill in Congress that establishes the 'road map' to hold new elections.
According to the law, which was promulgated on Sunday by Áñez, a new TSE must be appointed within a maximum period of up to twenty days, after which the Electoral Tribunal must call the polls within two days.
In addition, the law expressly veto Morales and his vice president, Álvaro García Linera, as candidates for reelection, annuls the elections of October 20 and orders that Áñez leave the power within 15 days.
Morales resigned on November 10 after the Organization of American States (OAS) confirmed "irregularities" in the presidential elections of October 20, whose official results granted him a fourth term.
Days later he arrived in Mexico, where he is in the capacity of political asylum. The former tenant of the Burned Palace denounces that he has been the victim of a "coup d'etat" and, consequently, does not recognize his interim successor, Áñez.
In this month of protests, more than 30 people have died and more than 700 have been injured. The great conflict in El Alto has prevented fueling La Paz, which has generated a shortage of basic products, including food.