Andy Murray may have to adapt his game after hip injury, says former coach Miles Maclagan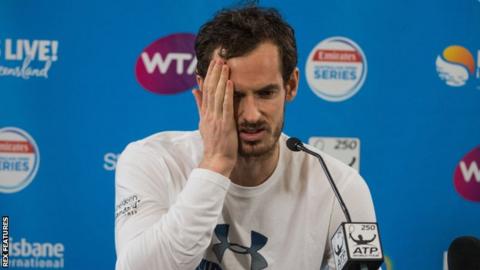 Andy Murray may need to adapt his game in his recovery from a long-term hip injury, according to his former coach Miles Maclagan.
The 30-year-old has withdrawn from the Brisbane International and says he may have to consider surgery.
Maclagan describes the situation as "concerning" but says the world number 16 can come back a different player.
"If he can get fit, it might force him to play a different sort of game, with shorter rallies," Maclagan said.
"That could be very exciting, [but] he's got a tough road back.
"The characteristic of these great players is that when they've had a setback they often come back stronger, reinvigorated in the mind. He said he was tired, so could come back with a fresh mentality."
Maclagan spent three years as part of Murray's coaching team and says that his fellow Scot's situation would be worse if he did not have surgery as a back-up option.
Murray has been trying to overcome the long-standing problem through rest and rehabilitation, having not played competitively since his defence of the Wimbledon singles title ended in a five-set defeat by Sam Querrey in July.
'There's still a plan B'
The Australian Open starts in Melbourne on 15 January and Murray said he would decide by the weekend whether to stay in Australia or fly home.
"It's concerning because the first option hasn't worked out, which was a lot of rehab," Maclagan added.
"I know he's put as much into it as he possibly could. There have been big advancements in medicine and there are guys like Lleyton Hewitt and Milos Raonic who had this sort of surgery and came back to a good level. But of course it's never quite the same.
"There is a lot of wear and tear for athletes now, the way they play and the training they put themselves through so they can be as fit as they need to be to play at the level Andy Murray has.
"It would probably be more worrying if he'd had the surgery and still wasn't quite right, so there's still a plan B.
"I would imagine in the short term he's probably pretty down. He's made the effort to get out to Australia, it's not like he's just popped across to France to see how it is."