An explosion next to a police station in northern Sumatra leaves several injured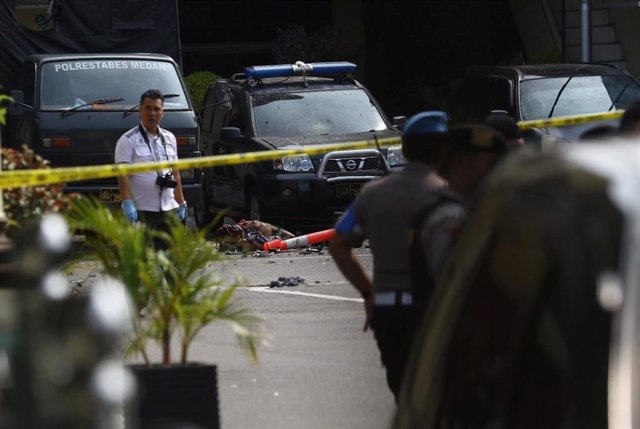 Police watch the area where an explosion has taken place next to a police station in northern Sumatra – VIA REUTERS / ANTARA FOTO AGENCY
MADRID, Nov. 13 (EUROPE PRESS) –
An explosion on Wednesday next to a police station in the town of Medan, in the north of the Indonesian island of Sumatra, has left several injured, as reported by the local newspaper 'Jakarta Post'.
The alleged perpetrator of the explosion, which took place at 8.35 in the morning (local time) in the parking lot of the narcotics division of the police station, has died in the attack, as reported by the Police, who said he could It is a suicide attack.
"We are on alert right now. The explosion only reached the parking lot," explained police spokesman Dedo Prasetyo.
The event took place a month after Indonesian Security Minister Wiranto was stabbed by an individual allegedly radicalized by the ideology of the Islamic State terrorist group.
In images transmitted by television the minister can be seen collapsing on the ground after the attack in the town of Pandeglang, in the province of Banten, on the island of Java.
A photograph taken by the Police shows how the minister was transferred on a stretcher to the nearest hospital. Wiranto suffered two wounds in the abdomen, according to the director of the Berkah hospital, Firmansyah.
Indonesia, the country with the largest Muslim population in the world, is facing a resurgence of Islamist militia groups. In 2018 there were a series of suicide bomb attacks that killed more than 30 lives in the city of Suraybaya and were attributed to the Islamist group JAD, inspired by the Islamic State.