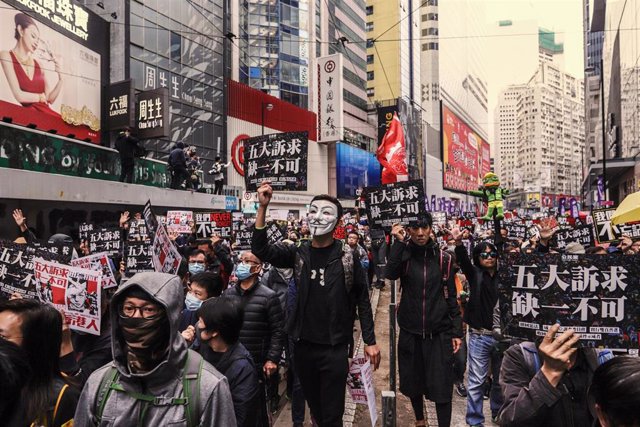 Protest in Hong Kong on New Year's Day – Liau Chung-Ren / ZUMA Wire / dpa
HONG KONG, 2 Jan. (DPA / EP) –
The Hong Kong Police made disproportionate use of force during their intervention before the massive New Year demonstration in which up to 1.3 million people would have concentrated, according to the Amnesty International director for the region on Thursday.
Amnesty denounces a disproportionate use of force by the Hong Kong Police in the New Year protest
"From the beginning of the march, there was a strong presence of riot agents watching and demonstrating demonstrators provocatively," said Man Kei Tam, who was present when the police ended the march.
When a group of people attacked a bank branch, "it could have been easily resolved," Tam stressed. "Instead, they used tear gas against the multitude of peaceful protesters, abruptly ending a legal march," he denounced.
According to the head of Amnesty International, the Democratic Party legislator Hui Chi Fung was sprayed with pepper spray at close range for asking the police to calm down.
"Amnesty International considers the actions of the Police against protesters as disproportionate and show an attitude of reprisal," he said.
"In the last week, the Police have acted without containment and this has not helped to reduce the problems," added Tam, who stressed that the behavior that "provokes protesters" is surely against the strategy of the head of the Hong Kong Government, Carrie Lam.
Lam has been criticized at the international level for his management of the demonstrations and his refusal to carry out a fully independent investigation into allegations of brutality by the Police against the protesters.
Demonstrations against the Hong Kong Government began more than six months ago by the decision to push for a law that would have allowed the extradition of suspects to mainland China but then led to a broader movement in favor of democracy and against the dominance of Beijing