Amazon adverts banned for 'misleading' customers over savings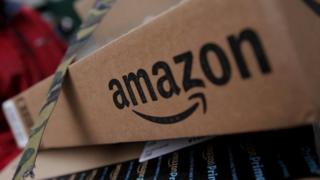 Four Amazon adverts for electronic devices have been banned for "misleading" customers over potential savings.
The adverts, all from July 2017, highlighted savings of up £300 compared with recommended retail prices (RRPs).
But complaints the RRPs were misleading and unsubstantiated were upheld by the Advertising Standards Authority.
Amazon admitted one advert was an "error" but said the other RRPs were in line with listings on other sites.
The adverts flagged up savings of £220 on an LG smart TV, £193 on a ViewSonic monitor, £300 on an MSI laptop and £185 on a Philips electronic toothbrush.
Each listing received one complaint.
Amazon said the saving for the TV had been calculated incorrectly but argued that the RRPs used in the other three adverts were similar to prices displayed on other retail websites or by sellers on Amazon Marketplace.
Amazon's argument was rejected by the advertising regulator and the complaints that all four adverts were "misleading" and unsubstantiated were upheld.
The ASA said that consumers would understand the reference to an RRP to mean that the advertised product was generally sold at the stated price across the market.
However, the ASA checked the prices that the monitor – listed with an RRP of £752 but available for £559 – had been sold at over the previous six weeks.
They found it had been sold at the higher price for nine days, then at a lower price for 14 days, then again at the higher price for two days, and after that, at a lower price for 16 days.
The ASA said the price fluctuations "did not demonstrate that Amazon usually sold the product at the higher price of £752".
Lack of evidence
Similar inconsistencies were found in the RRPs for the other products.
An ASA statement read: "We told Amazon to ensure that future references to RRPs reflected the price at which the products concerned were generally sold, and to ensure that they held adequate evidence to substantiate their savings claims."
An Amazon spokesman said: "Our customers come to Amazon and expect to find low prices and incredible deals, and we work hard to provide both all year long."
Amazon was one of three companies criticised last year by consumer group Which? after a year-long investigation into "Black Friday" prices found that many deals advertised on the day were cheaper or the same price at other times of year.
Which? advised shoppers to "look at the price, not the 'saving'."