Allison Mack, Smallville actress, charged over Nxivm sex trafficking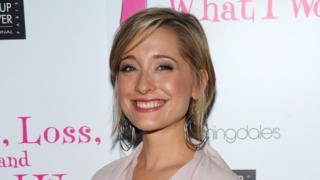 Allison Mack, a US actress known for the TV show Smallville, has appeared in court on charges of aiding a sex trafficking operation disguised as a mentoring group.
Keith Raniere, the leader of the "self-help group", was arrested by the FBI in Mexico in March.
Ms Mack is accused helping him to recruit women who were then exploited "both sexually and for their labour", the New York prosecuting attorney said.
She pleaded not guilty to all charges.
At a brief hearing on Friday evening in a Brooklyn federal court, the judge ordered Ms Mack, 35, to be held in custody. She will appear in court again on Monday.
Prosecutors allege Mr Raniere oversaw a "slave and master" system in his group called Nxivm, where female members were expected to have sex with him and were branded with his initials.
"Allison Mack recruited women to join what was purported to be a female mentorship group that was, in fact, created and led by Keith Raniere," Richard Donoghue, US Attorney for the Eastern District in New York, said in a statement.
Prosecutors allege that Nxium has the features of a pyramid scheme, in which members pays "thousands of dollars" for courses to rise within its ranks.
"Mack directly or implicitly required her slaves… to engage in sexual activity with Raniere," the statement from the attorney's office claims.
"In exchange for this, Mack received financial and other benefits."
If found guilty, both Ms Mack and Mr Raniere face at least 15 years in prison.
Allison Mack was a mainstay of the popular Superman television show Smallville, which ran from 2001- to 2011. She appeared in more episodes than any other actor except for Tom Welling, who played the main character Clark Kent, according to the show's IMDB page.
In late March, Ms Mack's Smallville co-star Kristin Kreuk – who played Lana Lang on the show – was forced to issue a denial of rumours she had acted as a recruiter for Mr Raniere.
In a statement published on Twitter, she said any such accusations were "blatantly false" and had left the programme in 2013.
She said she had " minimal contact with those who were still involved".
Within Nxium, a smaller group called DOS – or Dominus Obsequious Sororium – was created. The quasi-Latin phrase roughly translates as Master Over the Slave Women.
DOS had female "slaves" and "masters", and encouraged women to recruit new slaves "who in turn owed service not only to their own masters but also to masters above them" in the pyramid scheme, prosecutors say.
Mr Raniere is alleged to have stood at the top of that pyramid, as the only man, with Ms Mack at the top level of women, immediately below him.
Investigators say Mr Raniere had a rotating group of 15 to 20 sexual partners, who were not allowed to discuss their relationship with him or have one with anyone else.
Compliance was assured in part through the use of "collateral" which had to be provided when joining – which prosecutors said included damaging information about friends or family, nude photographs, or rights to assets.
They allege that "slaves" in the group had to eat extremely low-calorie diets because of Mr Raniere's preference for thin women.
The existence of the group's darker side came to widespread attention in October 2017, when the New York Times published a story including interviews with former members and their families.
A statement from Nxivm on its website says it is working with the authorities to demonstrate Mr Raniere's "innocence and true character".