Alfie Evans: Toddler's parents launch new legal challenge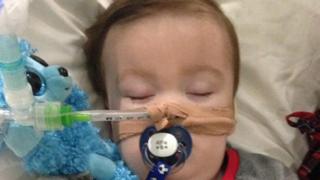 The parents of a terminally ill toddler who has been at the centre of a life-support treatment battle are set to mount another legal challenge.
Tom Evans and Kate James are preparing to ask Court of Appeal judges to allow 23-month-old Alfie Evans to continue receiving treatment.
Appeal court officials said a hearing has been listed for Monday.
On Thursday, hundreds of people protested outside Alder Hey Children's Hospital where Alfie is receiving care.
Some protesters returned to the hospital on Friday afternoon.
Speaking outside Alder Hey, Mr Evans told reporters he had been told he could face prison if he removes Alfie from the hospital.
In February, Mr Justice Hayden ruled doctors could stop treating Alfie against the wishes of his parents following hearings in the Family Division of the High Court in London and Liverpool.
On Wednesday, the judge said Alfie's undiagnosed degenerative brain disease was "profoundly unfair", as the court endorsed an end-of-life care plan drawn up by specialists.
The judge said details of that plan could not be revealed because the toddler was entitled to privacy.
Legal advisers representing Mr Evans, 21, and Ms James, 20, said they will ask appeal court judges to overturn at least one decision made by Mr Justice Hayden at Monday's hearing.
Appeal court officials said an appeal court judge had decided that Alfie should continue to receive treatment pending Monday's hearing.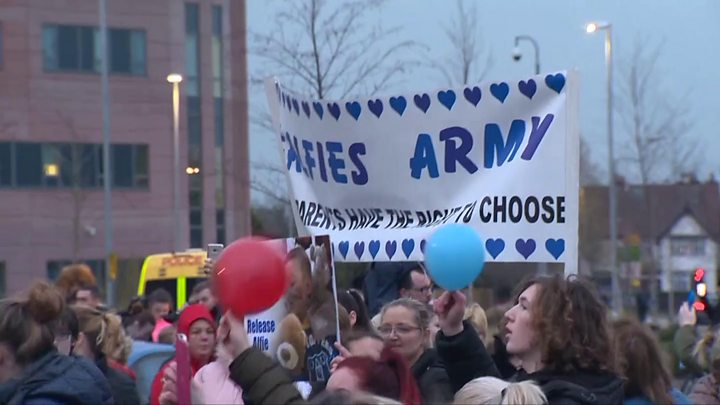 Alfie has been at Alder Hey since December 2016 and his parents want to move him to Rome's Bambino Gesu Paediatric Hospital, which has links to the Vatican, where his palliative care would continue.
The Pope previously tweeted his support for Alfie, saying he hoped the "deep suffering" of the toddler's parents would be heard.
Alfie's parents, from Liverpool, have said they have a private ambulance and jet on stand-by ready to take Alfie to Rome.
In December, they said Bambino Gesu would give Alfie a tracheotomy and a percutaneous endoscopic gastrostomy (PEG) to allow him to be fed through his stomach.
But Alder Hey's hospital trust argues that Bambino Gesu has a similar belief that care for Alfie should be palliative.
Speaking outside Alder Hey Hospital on Friday, Mr Evans told reporters he had been told he could face prison if he removes Alfie from the hospital.
The couple have lost cases in the High Court, Court of Appeal, and had their case rejected by the Supreme Court and European Court of Human Rights.
In a post on Alfie's Army Official Facebook page, the family thanked supporters but also referred to some negativity and "trolls".
Alfie Evans legal fight:
9 May 2016: Alfie is born
December 2016: Alfie is first taken to Alder Hey Children's Hospital after suffering seizures
11 December 2017: Hospital bosses say they are "liaising directly" with the youngster's family following disagreements over his treatment
19 December: A High Court judge, Mr Justice Hayden, begins overseeing the case. The hospital says continuing life-support treatment would not be in Alfie's best interests, but his parents disagree and say they want permission to fly him to Italy for treatment
1 February 2018: A hearing begins at the High Court in Liverpool, in which lawyers acting for the hospital claim further treatment for Alfie is unkind and inhumane
2 February: One of Alfie's doctors tells the judge there is "no hope" for the youngster, who is in a "semi-vegetative state" from a degenerative neurological condition doctors have not been able to definitively identify
20 February: Mr Justice Hayden rules in favour of hospital bosses
6 March: The Court of Appeal judges uphold the decision of Mr Justice Hayden
20 March: Supreme Court justices refuse to give the couple permission to mount another appeal
28 March: Judges at the European Court of Human Rights (ECHR) reject a bid from Mr Evans and Ms James for them to examine issues relating to Alfie's future, saying they found no appearance of any human rights violation
11 April: Mr Justice Hayden endorses an end-of-life care plan for Alfie
13 April: Legal advisers representing Alfie's parents say they will ask appeal court judges to overturn at least one decision made by Mr Justice Hayden at a hearing on April 16