Alexander Zverev: A Grand Slam champion in the making?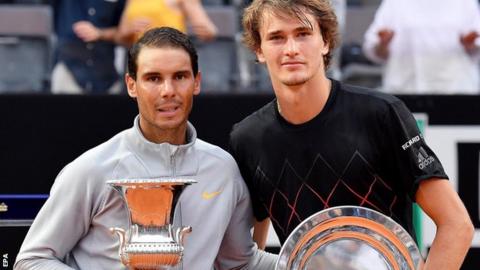 2018 French Open
Venue: Roland Garros, Paris Dates: 27 May-10 June
Coverage: Daily live radio and text commentaries on BBC Radio 5 live and the BBC Sport website
In Indian Wells as an 18-year-old in March 2016, Alexander Zverev had a straightforward forehand volley to knock out Rafael Nadal and take his place in the quarter-finals.
He buried it in the net, and the chance was gone. "On match point, I sucked," the German later said.
That was their first meeting. Four subsequent matches have also gone Nadal's way, but there were five sets in the 2017 Australian Open, and a narrow escape for the Spaniard in Sunday's Rome Masters final.
Nadal may well have recovered from 3-1 down in the deciding set without the rain delay, but it certainly checked Zverev's momentum and ended his run of 13 wins in a row.
The now 21-year-old, who is based in Monte Carlo, has gathered an impressive array of trophies in a short period of time. In the past two years, the former junior world number one has won eight titles – including three at Masters level – and been runner-up a further five times.
Zverev, who also answers to the name Sascha, has no significant weaknesses. His backhand is breathtakingly good (which is a big advantage on clay when facing Nadal's beloved, and heavily spun, crosscourt forehand), and despite being 6ft 6ins tall, is able to move as well as serve well.
But before the French Open, which begins on Sunday, Zverev still needs to prove himself on the Grand Slam stage. He is yet to reach the quarter-final of any Slam and his one appearance in the fourth round ended in defeat by Milos Raonic at Wimbledon last year.
After beating Zverev to the Rome title, Nadal confidently predicted this is just a matter of time.
"It's impossible to not have a great result in a Grand Slam when you have the level that he has," the new world number one said.
"It's just time. If he's not playing well in Grand Slams during the next two years, you can come back to me and tell me 'you know nothing about tennis'. But I believe that it is going to be a different story.
"Tennis is tennis. It doesn't matter – best of three, best of five. Playing best of five is a big advantage for the best players, and Sascha is one of the best players."
It is hard to argue with Nadal's prediction, although Zverev's Grand Slam performances in the past year have not come close to matching his form on the ATP Tour. He lost to Fernando Verdasco in the first round of last year's French Open, and after that run to the last 16 at Wimbledon, was beaten by Borna Coric in the second round of the US Open.
After losing the deciding set of his third-round match 6-0 to eventual semi-finalist Hyeon Chung at January's Australian Open, Zverev said the problem was not physical, but hinted it could be mental.
What should be remembered, though, is that the German only turned 21 last month. The French Open will be just the 12th time he has played in a Grand Slam main draw. By means of comparison, Roger Federer's first Slam title, at Wimbledon 2003, came at his 17th attempt. And Federer was about the age then that Zverev will be at the 2019 Australian Open.
"I try to play the same way, play the same way over a longer period of time," Zverev said, as he looked ahead to Roland Garros after the Rome final.
"For me, it will be match by match there. And hopefully I'll be able to play the same kind of tennis like I did in the last three weeks. We'll see. The next few days, I will not even think about tennis. And then I'll go to Paris and do my best to prepare and try to compete for the French Open.
"Of course, Rafa will be the favourite there, there's no question about it. I'll be in the other half of the draw. So, that's a good thing," he said, with a smile.
| Alexander Zverev factfile | |
| --- | --- |
| Born: | 20 April 1997 in Hamburg, Germany |
| Turned pro: | 2013 |
| Grand Slam appearances: | 11 |
| Best Grand Slam performance: | Fourth round, Wimbledon 2017 |
| ATP Tour titles: | Eight |
| ATP Tour finals: | 13 |
| Career prize money: | £7.73m |
| 2018 prize money: | £2.44m |
Zverev will arrive in Paris as the world number three, and in the absence of Federer, as the second seed. He knows he will be under the spotlight. He can be prickly and blunt with the media, but he can also be brutally honest.
"Nerves got the better of me. I choked," he said, after losing a decisive round-robin match to Jack Sock at the ATP Finals in London last November.
Zverev has been seeped in tennis for all of his life. His parents, Alexander and Irina, are former professionals, and dad still coaches him to this day. His brother Mischa, nearly 10 years his senior, reached the last eight of the 2017 Australian Open after a stunning win over then world number one Andy Murray.
Sascha has been a regular by the side of the court from a toddler as the family travelled with Mischa on the junior tour. He thinks he first had a knock-up with Murray and Novak Djokovic at the age of just three.
The man, with the world at his feet, has been a long time in the making.