Alan Sugar deletes Corbyn Hitler tweet after backlash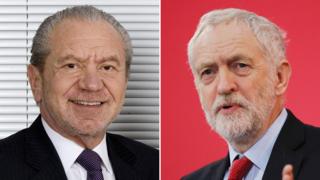 Alan Sugar has faced calls to "disown" a tweet he sent which depicts Labour leader Jeremy Corbyn sitting in a car alongside Adolf Hitler.
Shadow chancellor John McDonnell appealed to the businessman to delete it and "bring people together".
Lord Sugar sent the image as Mr Corbyn said his party "must do better" in dealing with anti-Semitism.
It carried the caption: "When you're pictured at Nuremberg and claim you thought you were going to a car rally".
The city of Nuremberg was host to Nazi propaganda events after Hitler's rise to power.
The Apprentice star, who is Jewish and a former Labour peer, tweeted "many a true word spoken in jest Corbyn" and said the post was a "joke".
But some Labour MPs did not accept this.
John Mann, chairman of the all-party group against anti-Semitism, said the use of Nazi comparators was "demeaning, unwarranted and dangerous".
Skip Twitter post by @johnmcdonnellMP
People have contacted me about Alan Sugar's tweet. I just make this appeal to him. Please delete and disown it. We all desperately need to bring people together now. We can hold strong views about each other's politics but now is the time to learn from each other and unite people

— John McDonnell MP (@johnmcdonnellMP) March 30, 2018
End of Twitter post by @johnmcdonnellMP
Shadow cabinet minister Jon Trickett called the post "grossly misjudged and deeply offensive".
Derby MP Chris Williamson said the post "promotes hatred and that is irresponsible" and brings his position as a peer into disrepute.
"I hope you will therefore swallow your pride, delete it and make a fulsome apology," he added.
Lord Sugar – who has a life peerage – quit the Labour party in 2015 citing "negative business policies".
In a Passover message on Friday, Mr Corbyn said it was easy to denounce anti-Semitism abroad but sometimes harder to see it closer to home.
His message came on the same day various MPs and peers called for him to suspend senior Momentum figure Christine Shawcroft from the party's governing body, after it emerged she had sent an email showing support for a council candidate accused of Holocaust denial.
Labour deputy leader Tom Watson said Ms Shawcroft should "explore her own conscience", adding that she needs to "realise the damage she has done to her own party and to Jeremy personally and make the right decision" about whether to resign.
He told BBC Radio 4's Today programme: "I am afraid she is elected by our members. I am not in a position to remove her from the committee and neither is Jeremy."
Ms Shawcroft stepped down as head of Labour's disputes panel on Wednesday.