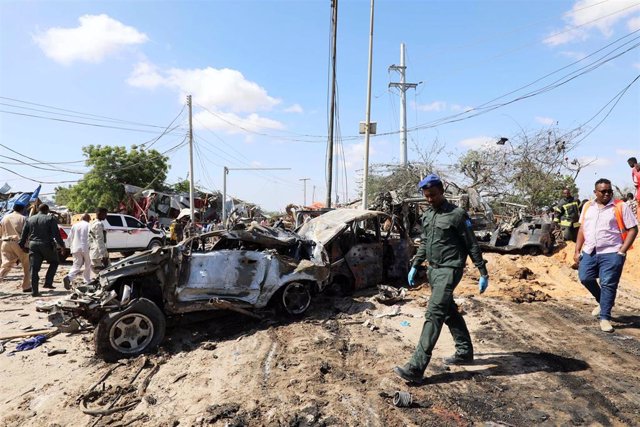 A Somali police officer goes through the scene of the car bomb attack perpetrated by the terrorist group Al Shabaab, in Mogadishu. – REUTERS / FEISAL OMAR
MOGADISCIO, Dec 31 (Reuters / EP) –
The jihadist group Al Shabaab on Monday acknowledged the authorship of the car bomb attack that killed at least 94 people over the weekend in the northwest of the capital, Mogadishu.
The attack resulted in the death of 17 police officers, 73 Somali civilians and four foreigners, of which two were Turkish, and nearly a hundred injured.
"The aim of the explosion was a convoy of Turkish and Somali forces, which suffered heavy losses," said a spokesman for al Shabaab through an audio message.
"We will always fight against the apostate government of Turkey," the message has continued, in which the Al Shabaab terrorists have accused Ankara of "seizing all the resources of Somalia."
The attack has been the third bloodiest in the recent history of the capital, behind the one that occurred on October 14, 2017 – 587 dead – and October 2011 –100 dead.
For their part, and before Al Shabaab claimed responsibility for the attack, the Somalia Intelligence services had accused a foreign country on Monday of having been involved in the attack, although they did not specify what it was.
Somalia faces an increase in the number of attacks by Al Shabaab – linked to the terrorist organization Al Qaeda – both in the capital and in the south of the country, in order to overthrow the central government, which counts with the support of the United Nations and the African Union.
In recent years, Somalia has become the scene of military and diplomatic rivalry between Turkey and Qatar, on the one hand; and Saudi Arabia and United Arab Emirates, on the other. For its part, the United States has increased its bombings against the terrorist group.
According to a study published by the think tank Africa Center for Strategic Studies (ACSS), under the Department of Defense of the North American country, Al Shabaab carried out 1,515 attacks in 2018 – seven percent less than in 2017 – and He killed 3,955 people.