Airbnb guests mistaken for burglars to sue police
Donisha Prendergast was staying in a home in Rialto, California, along with friend and filmmaker Kells Fyffe-Marshall and two others.
As they left the home on 30 April they were stopped by police, who were called because a neighbour thought there was an active burglary going on.
The group shared videos across social media showing them arguing with police, and claimed one officer had told them he had never heard of Airbnb.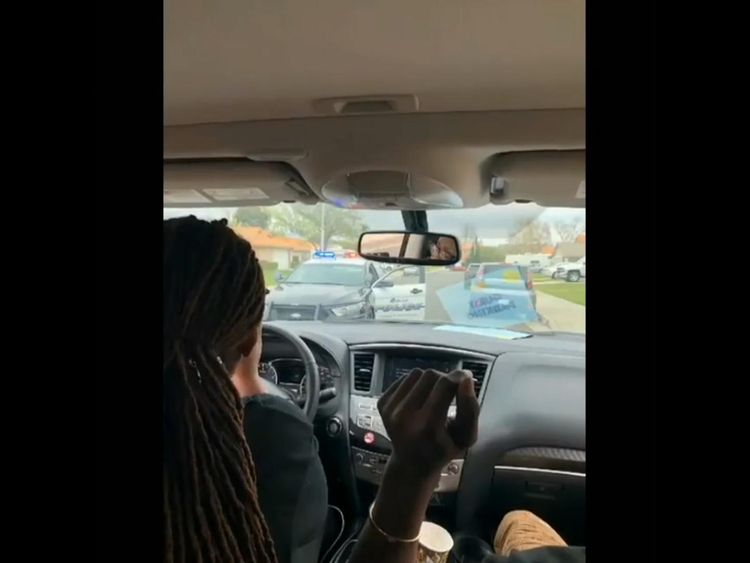 However, police have now released their own bodycam footage, showing the entire event, including the officers joking with the group and getting excited about meeting Marley's granddaughter.
Rialto police chief Mark Kling said the department had been unfairly accused of racism and has been handling dozens of calls about burglary in the area.
"The videos speak for themselves," he said. "Our officers handled the situation with professionalism, dignity and respect."
A statement released by police said the encounter lasted 22 minutes, but the group claimed it was more than 45 minutes.
It added officers did not use restraints at any point and allowed the guests to get out of their vehicles to locate the owner of the "unlicensed" Airbnb.
The group maintains that the call was racially motivated, but the owner of the home told a press conference that her neighbour had been worried because the group did not wave back to her when she saw them.
Marie Rodriguez said: "She walked over, smiled at them and waved and they looked at her like she was a Martian.
"Later on in the tape, the officer explained she waved hello and you ignored her and they mocked her.
"It's common courtesy, have some manners. We're all strangers until we say hello."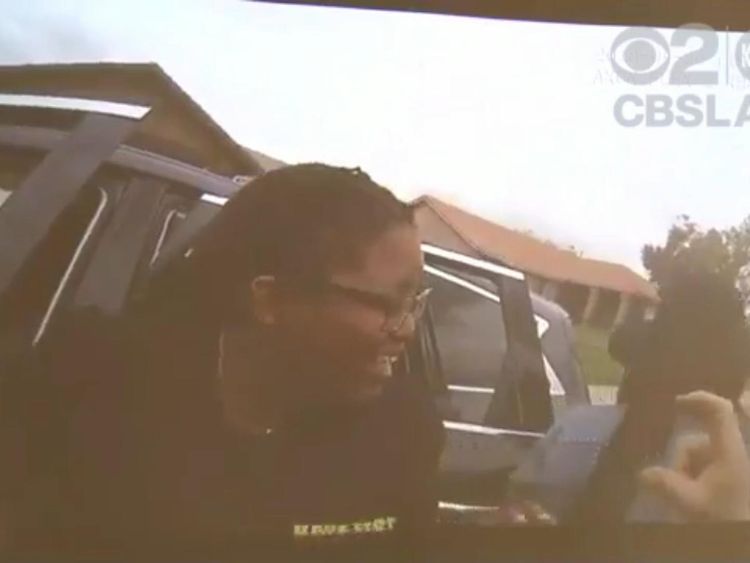 The police bodycam footage captured the neighbour who called, saying: "They had luggage in their hands and they weren't really looking at me.
"They didn't behave like neighbours and I know the couple that owns the house and I didn't recognise them… I wasn't being nosy. I was just being observant."
Jasmine Rand, a lawyer for Ms Prendergast, Ms Fyffe-Marshall and their friend Komi-Oluwa Olafimihan, said she had put Rialto Police Dept on notice of the potential of litigation.
In a post on Facebook when the incident happened, Ms Fyffe-Marshall wrote: "As you can see three of us were black. About 10 seconds later we were surrounded by seven cop cars.
"The officers came out of their cars demanding us to put our hands in the air. They informed us that there was also a helicopter tracking us. They locked down the neighborhood and had us standing in the street.
"Why? A neighbour across the street saw three black people packing luggage into their car and assumed we were stealing from the house. She then called the police."
She said the situation had escalated about 20 minutes later and they were detained while they investigated a felony charge, despite phoning the landlord to confirm they were guests.
In a statement to CNN, Airbnb offered their sympathy and support and said: "Airbnb's mission is to create a world where anyone can belong anywhere and we have aggressively worked to fight bias and discrimination in society.
"We are also reaching out to our partners at the NAACP, National Action Network, Color Of Change, and others to discuss this matter and ensure we are doing all we can to protect our community when they travel."