'After 22 years of pain, I had my leg amputated'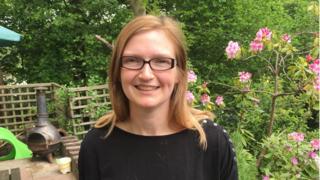 Removing part of a leg was probably the most difficult decision Claire Blackburn has ever had to make. Especially as it was not medically necessary.
But the mum-of-four could not hold her children's hands, she could not push their pushchairs, she could not even walk into the living room holding a cup of tea.
"There were lots of things like that that were getting to me," recalled the 37-year-old. "I had tried everything."
Claire badly injured her leg as a 12-year-old jumping into what she thought was a deep stretch of river on Dartmoor.
But water levels were low – and that is where her nightmare began.
Double amputee crawls up 2,700-step incline

Woman who wanted an amputation says other leg now paralysed

Double amputee makes Everest history

Rescued search dog to lose a leg
After 22 years of constant pain and scores of medical tests, treatments and an epidural, she came to a difficult conclusion.
Within months, her lower right leg was removed in 2015.
"It took a bit of deciding but I did pretty much know that was what I wanted," recalled Claire. "I couldn't be any worse than I was.
"I have wonderful children but I couldn't hold their hand, I couldn't carry them. I permanently walked on crutches.
"I had a constant fear of someone knocking, touching, moving my leg that would cause me considerable pain."
Claire knew as soon as she jumped into the shallow River Lyd, at an area known as Black Rock, during a 1993 summer holiday family picnic, she was in trouble.
"Where we were, we would normally jump as it was quite a deep space of river," she said.
"But there had been little rain and it caused the water levels to drop. I hit both feet on the bottom, the pain was almost instantaneous.
"Obviously one of my legs got better, my right leg didn't. From that moment, the pain was permanently there. It changed everything."
Claire was airlifted to hospital and a hairline fracture was diagnosed.
Her days as a keen gymnast and cross-country runner came to a halt as the pain would not go.
Her schoolwork was affected too as she spent the best part of a year in Great Ormond Street and Plymouth hospitals.
"Doctors tried all sorts of things, like nerve blocks, to try and help," she said.
"It was just an ongoing sort of juggle between school and medical stuff – there was all of a sudden barriers of joining in with your friends, they would go off whereas I couldn't.
"It changed your perspective of yourself. As I grew up, I wanted to be part of groups but it was a challenge when you know you're the one that's got difficulties and not always able to put a brave face on a situation.
Claire, who now lives in Pontypridd, tried to manage the pain but got quite bitter about her leg as she wanted to be better.
She felt like the "exception to the rule" and was constantly disappointed as treatments failed to ease her pain.
"So I made a decision that I would ask about having my leg amputated," she said.
"Medically my leg was considerably shorter than my other leg. I also have osteoporosis due to the over-use of the one leg and under-use of different parts of my body from my crutches.
"It got to the point where as much as I felt like I was giving up and being defeatist by saying it, I knew I'd tried everything – and I didn't want my osteoporosis to become any worse.
"They told me that if they took my leg off I might still have the pain – and I was accepting of that.
"As much as I didn't want the pain, I've coped for 22 years with pain so I'm not frightened of pain."
Claire met numerous orthopaedic consultants and neurologists at Llantrisant's Royal Glamorgan Hospital and had the operation to remove her lower leg just eight weeks after giving birth.
"When I came round in recovery, I was aware that the pain of 22 years was gone," she recalled.
"There was pain from the operation, but not the pain I'd had for the 22 years."
Three years on, Claire is now climbing Wales' highest peak Snowdon as she "wants to try everything".
"I feel a kid in a playground," she said.
"I had to build up 22 years of muscle wastage, learning how to move again.
"Now I want to find my limitations and that's just enjoying life. It has given me just more ability than I've had in a long time and I'm absolutely loving it."