Africans at the Winter Olympics: Inspirational – or glory-hunters?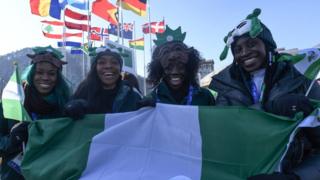 For two weeks, the entire world's attention has been on South Korea, where the world's best athletes have been competing for glory in the Winter Olympics.
But it is not just those winning gold who have captured our imagination. As with every Olympic Games, support for the underdog has crossed borders.
In Pyeongchang, those underdogs have, by and large, come from African countries – perhaps unsurprisingly. After all, Africa is not known for its snow and ice.
It helps that many have inspiring stories of overcoming the odds to make it to South Korea; stories which many hope will inspire other athletes to follow in their footsteps.
The Nigerian bobsled team has been a particular favourite, the echoes of "Cool Runnings" – the Jamaican bobsled team which fought their way to Calgary in 1988 – ringing strongly in fans' ears.
Inspiration
The three women are part of the first Nigerian delegation to make it to the Winter Games and the first African team ever to compete in the bobsled competition.
They have been feted as heroines and role-models in Nigeria – women who were forced to turn to crowdfunding in order to fulfil their Olympic dream.
They even appeared on the Ellen Degeneres Show in the US, proud examples of what African women can do when they set their minds to it.
The only problem with that narrative is that not one of the three-woman strong team was born in Africa. Instead, they have chosen to represent the country of their parents.
And this – combined with their low rankings – leads some to ask: "Is this all just for show?"
Korede Oluwole, a Nigerian-based public relations expert, certainly thinks so.
"I am concerned, as to why a government of any serious country would send a contingent they never trained, that had no history in a competition – which this same country has never participated in – to the Olympics," he told the BBC.
"It seems to me that these African countries saw an opportunity to make an appearance at the Winter Olympics without doing the hard work and the athletes probably saw an opportunity for global recognition on the platform of their parents' countries, so it just works."
Read more:
Certainly, they are not the only athlete to use their heritage in order to make it to the Olympics. This year's most famous example is Elizabeth Swaney, who, like the bobsledders, was born and raised in the US.
But she did not compete for the US. Instead, she entered under the Hungarian banner – using her grandparents' nationality to qualify.
Her desperation to compete has come under fire from various quarters, and even led to some discussion of whether the loophole needed to be closed.
Mr Oluwole agrees.
"The lack of regulation and carelessness within the polity means that next time, anyone from anywhere in Europe or America can decide to attend some sporting event and use their Nigerian or Somali heritage as a right to register for such event, raise money and become celebrities literally overnight."
Loyalty
But what if you felt a particularly strong pull towards the country of your parents' birth? That, Mr Oluwole says, would be fine, but only if that loyalty came above the loyalty to the place you now lived.
"For me – patriotism is when you have a better option but choose to align with a less attractive option because it's your fatherland," he said.
Sabrina Simander, who competed in two events for Kenya, is a case in point. Born in Kenya, raised in Austria, she knew exactly who she wanted to represent.
"My mother is from Kenya, my family is from Kenya," she explained to the BBC ahead of the Games. "I never want to leave my motherland."
Ghana's Akwasi Frimpong is another favourite in Pyeongchang, winning legions of fans with his wide smile, brightly-coloured helmet and dance moves.
He was born and raised in Ghana until he was eight, when his mother took him to the Netherlands. He has been quite open about the fact he initially tried to compete for his adopted home at the London 2012 Olympics, but his dreams were crushed after he suffered an injury.
Tinuola Akinola, who works in sport marketing, is also all for more African countries being represented – even if they have to get "creative" in order to do so.
"I think it is uncharitable for anyone to insinuate that these athletes are glory-seekers or self-serving," he told the BBC.
"But to put things in perspective, qualifying for the Olympics in a new sport is no small feat, and this is bound to inspire young people of Nigerian or African heritage worldwide, to become creative in their approach to sports and to get involved in the process of re-inventing the continent of Africa.
"Therefore every single athlete out there representing Africa deserves whatever benefit they get."
Togolese cross-country skier Mathilde-Amivi Petijean is one example of a country getting "creative".
She was born in Togo, but competed for France at Sochi. She swapped countries after Togo approached her over Facebook.
But she believes her appearance alone will have inspired others to follow in her footsteps.
"It's not because there is no snow in my country that there shouldn't be any skiing," she said.
"There are no borders – we are after all in the 21st Century, and anyone should be able to do whatever they want to do whenever they want to do it – and that's fabulous."