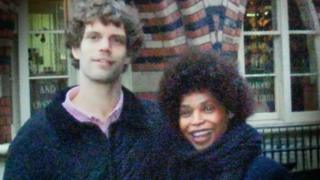 A man who had sulphuric acid thrown over him said his former partner should kill herself by drinking acid while he watched, a court has heard.
Berlinah Wallace, 48, denies murder and applying a corrosive fluid to Mark van Dongen, 29, in Bristol in 2015.
He ended his life in a Belgian euthanasia clinic 15 months later.
Acid death man 'told former partner to kill herself'
Ms Wallace told Bristol Crown Court Mr van Dongen fetched a bottle of acid from the kitchen during an argument the day before he was allegedly attacked.
Under questioning by Richard Smith QC, for the defence, Ms Wallace said she and Mr van Dongen had argued after he told her he had slept with another woman.
"I said 'why don't you just kill me', because I can't have any peace with him," Ms Wallace told the court.
"He said I should kill myself. He went into the kitchen and came back with the acid and put it on the table.
"He said 'there you go, you kill yourself – I'll watch'."
Ms Wallace told the court Mr van Dongen had got her a glass of water for her to take her medication.
She said she tried to leave the flat after the pair "bickered" and he tried to stop her physically from leaving.
"I asked him to stop, he didn't. I wanted something to hit him with.
"I reached for something, got a cup, turned around and threw the water at him."
'It hurts'
Mr Smith asked: "Did you know what was in the glass?"
"No I didn't. I thought it was water. I just wanted him to stop because he was hurting me," Ms Wallace replied.
She told the jury Mr van Dongen said "ooh, you threw acid at me", and as she turned around while trying to run away she saw "smoke or something" coming from him.
"He was saying 'it hurts, it hurts', she said.
She told the court Mr van Dongen had a shower and then left the flat.
Previously she told the court she had bought a bottle of sulphuric acid in order to clear drains and to "distress" fabric.
Mr van Dongen was left paralysed from the neck down and lost his left leg, ear and eye following the alleged attack in the early hours of 23 September 2015.
The trial continues.