According to Amnesty International, the number of executions in 2021 increased by 20% compared to the previous year
The number of executions in 2021 is up 20 percent from a year earlier, Amnesty International reported on Tuesday, which has highlighted China topping the list for another year – despite no official data – and added figures from North Korea and Viet Nam.
The NGO has pointed out in a report that 579 executions were recorded in 18 countries in 2021, up 20 percent from the 483 in 2020, a figure that also represents the second-lowest number of executions recorded by the agency since at least 2010 were registered.
He also explained that most of the executions took place in China, Iran, Egypt, Saudi Arabia and Syria, before adding that the figures exclude "thousands" of people who would have been executed without official evidence in the Asian giant, which is considered a state secret .
The Secretary General of the NGO, Agnès Callamard, has also criticized that "China, North Korea and Vietnam continue to hide their use of the death penalty in secrecy". "As always, what we saw was a cause for great concern," he said, as highlighted by the NGO in its global report on death sentences and executions in 2021.
Amnesty also pointed out that 24 of those executed were women, accounting for four percent of the total. Fourteen women were executed in Iran, while eight were executed in Egypt and one was executed in Saudi Arabia and the United States.
In this vein, he also recalled that Belarus, the United Arab Emirates (UAE) and Japan resumed executions in 2021, although there are no records of executions in India, Qatar and Taiwan, where there were 2020.
In the cases of Iran and Saudi Arabia, there has been a significant increase in executions, with 314 executions in the first country – compared to 246 in 2020 – the highest number since 2017. For example, 65 executions were carried out in Saudi Arabia, a 140 percent increase from 27 the previous year.
"Following a decline in their execution numbers in 2020, Iran and Saudi Arabia have increased their use of the death penalty again over the past year, to the point of grossly violating prohibitions set out in international human rights law," he lamented Callamard. "His eagerness to put the executioner to work doesn't seem to have abated in the early months of 2022," he warned.
In the case of Iran, the authorities are sticking to the death penalty for drug possession, and the number of executions for drug-related offenses has multiplied from more than 100 to 132, compared to 23 in 2020. Three people have also been convicted of acts committed when they were minors have been carried out in the country, in violation of international law.
Amnesty International has stressed that the lifting of restrictions imposed by the coronavirus pandemic, which have been delaying trials, has led to an increase in the handing down of death sentences by judges, with significant increases in Bangladesh, India and Pakistan.
"Rather than seize the opportunities created by the disruptions of 2020, a small number of states have shown worrying enthusiasm to favor the death penalty over effective solutions to crimes and a callous disregard for the right to life despite urgent and ongoing global human rights crises. ' complained Callamard.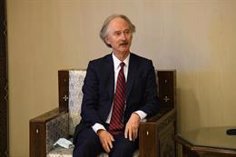 The United Nations welcomes the amnesty for prisoners announced by the Syrian President in April
On the contrary, Amnesty has highlighted that Sierra Leone's parliament approved the abolition of the death penalty in July 2021, which Kazakhstan also did in December after it came into force the same year. Also, Papua New Guinea conducted a national consultation that resulted in the adoption of a draft law in January 2022, pending ratification.
In this way, more than two-thirds of countries will have abolished death in law or in practice by the end of 2021, although 55 still retain it. In this regard, commutations or pardons for those sentenced to death were registered in 19 countries last year, while exonerations were granted in another four countries.
A total of 2,052 death sentences were imposed in 56 countries in 2021, a 39 percent increase from 1,477 in 54 countries in 2020. These countries include Ethiopia, Guyana, Maldives, Oman, Tanzania and Uganda, which had no death sentences in 2020.
Because of this, at the end of 2021, there was evidence of at least 28,670 people on death row, with more than 80 percent in just nine countries: Iraq, with more than 8,000; Pakistan with more than 3,800; Nigeria with more than 3,000; the United States with about 2,400; Bangladesh with more than 1,800; Malaysia with about 1,400; Vietnam with more than 1,200; and Algeria and Sri Lanka, each with more than a thousand.
The NGO has also stressed that in 2021 the death penalty was used in several countries as a tool of repression against minorities and protesters, with an alarming increase in executions under martial law imposed in Burma after the coup d'état on February 1, 2021.
She has explained that the Burmese army had delegated the power to try civilians to military courts, leading to summary trials without the right of appeal, which in several cases resulted in the arbitrary death sentence of 90 people in absentia, seen as a campaign against protesters and journalists.
Amnesty said the authorities in Egypt continue to resort to torture and mass executions, often after unfair trials in security courts, while in Iran members of ethnic minorities have received disproportionate death sentences on vague charges such as "enmity with God". .
As such, at least 19 percent of executions in Iran have been carried out by members of the Baloch minority, who make up nearly 5 percent of the Asian country's population. For his part, young Saudi Mustafa al-Daruish, a member of the Shia minority, was executed in June after an unfair trial based on a confession extracted under torture.
"The minority of countries that maintain the death penalty are aware: not only can we envision a world without state-sanctioned killing, but it is within reach and we will continue to fight for it," Callamard said.
"We will continue to denounce the arbitrary, discriminatory and cruelty inherent in this punishment until no one remains under its shadow. It is time that the most cruel, inhuman and degrading punishment was relegated to the history books," the Secretary-General concluded. by Amnesty International.