About 400 arrested in a new day of protests in Hong Kong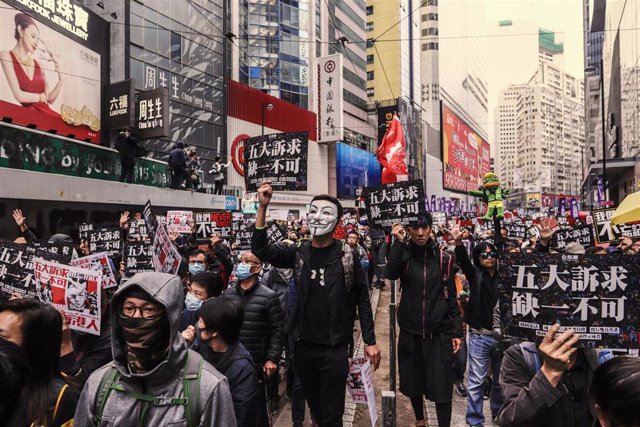 Prodemocratic demonstration in Hong Kong – LIAU CHUNG-REN / ZUMA WIRE / DPA / LIAU CHUNG-REN
MADRID, Jan. 1 (EUROPE PRESS) –
About 400 protesters have been arrested on Wednesday night after a new day of mass mobilizations in Hong Kong, which have gathered up to one million people, according to organizers.
The most important has been in the Causeway Bay neighborhood, in central Hong Kong, where the Civil Front for Human Rights, the protest organizer, has assured that there have been more than one million people, a figure that contrasts with the around 50,000 people offered by the Police, according to the newspaper 'South China Morning Post'.
The demonstration called by prodemocratic organizations in the neighborhood of Causeway Bay has developed peacefully, until the organizers have announced that the police had given orders to dissolve the march because some violent incidents had occurred.
"On the first day of 2020, the Police rejected the first authorized concentration of the year with an absurd excuse. The Hong Kong Government has demonstrated its unwillingness to listen to the voices of the masses, violating the right of citizens to meet ", the Front has denounced in a statement.
As a result, numerous protesters have refused to leave the area, triggering the intervention of the Police, which has loaded, used tear gas and pepper gas and serious disturbances have occurred. The launch of at least two Molotov cocktails that did not reach the agents has also been reported.
Following the usual tactic, the protesters have withdrawn before the police advance and then have regrouped and clashes with the riot police, which they charged from two directions. There have also been vandalism attacks against various establishments in the area.
According to the Police, at least 400 people have been arrested on Wednesday, mostly for illegal concentration and for possession of offensive weapons, one of the highest arrest balances since the protests began.
Sources consulted by the 'South China Morning Post' have indicated that the Police have changed their strategy and instead of dispersing the crowd has proceeded to mass arrests. The agents have gradually regained control of the area and installed road controls in the main arteries, in addition to registering buses.
Demonstrations against the Hong Kong Government began more than six months ago by the decision to push for a law that would have allowed the extradition of suspects to mainland China but then led to a broader movement in favor of democracy and against the dominance of Beijing