Abortion laws in Northern Ireland 'unsustainable'
Labour's Jonathan Ashworth told Sky's Ridge on Sunday that women in Northern Ireland "should have the same rights" as those in the rest of Ireland.
The Republic overwhelmingly backed relaxing abortion laws in a referendum on Friday, with more than 65% voting in favour.
:: Analysis: UK abortion laws aren't as simple as you'd think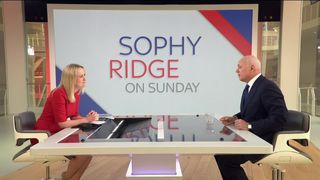 This has sparked calls for Mrs May to reform the laws in Northern Ireland and act in the absence of a devolved administration there – but such a course of action would be fraught with danger for the prime minister.
Her government depends on support from the Democratic Unionist Party's 10 MPs – and the party is strongly opposed to any reform.
In her first reaction to the referendum, she said in a message posted on the PM's official Twitter account that the vote was "an impressive show of democracy".
:: Analysis: A new challenge for May
"The Irish Referendum yesterday was an impressive show of democracy which delivered a clear and unambiguous result. I congratulate the Irish people on their decision and all of #Together4Yes on their successful campaign." – PM @theresa_may#repealedthe8th

— UK Prime Minister (@10DowningStreet) May 27, 2018
DUP MP Ian Paisley said Northern Ireland "should not be bullied into accepting abortion on demand".
Sinn Fein vice president Michelle O'Neill said it would be her preference for the decision to be taken in Northern Ireland, but in the absence of a government at Stormont "we have to find a way to deliver rights".
Currently, abortions are only legal in Northern Ireland if the life or mental health of the mother is at risk.
Mr Ashworth, who is shadow health secretary, told Sky News: "I don't think it's sustainable that women in Northern Ireland should be denied this and be out of place from the island of Ireland and the rest of the United Kingdom."
He added: "If a vote did come to the House of Commons, I would vote to allow women in Northern Ireland to have an abortion like they can here in England."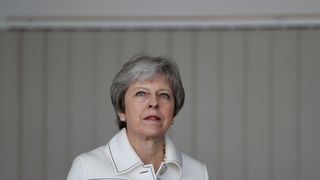 Cabinet minister Penny Mordaunt, who holds the women and equalities brief, said the result was a "historic and great day for Ireland" and a "hopeful one for Northern Ireland".
According to the Sunday Times, four former holders of the role – Amber Rudd, Justine Greening, Nicky Morgan and Maria Miller – all support Ms Mordaunt in her backing for change in Northern Ireland.
Education minister Anne Milton suggested she would support liberalisation if there was free vote, telling ITV's Peston on Sunday that the current situation "does feel anomalous".
Scores of MPs from across the Commons have indicated they are willing to act to rewrite the current legislation, with the forthcoming Domestic Abuse Bill a potential vehicle for efforts to change the law.
Conservative MP Sarah Wollaston told Sky News it was her expectation that an amendment to that bill will be tabled in the Commons, although it may not come to a vote if it is not selected by the speaker.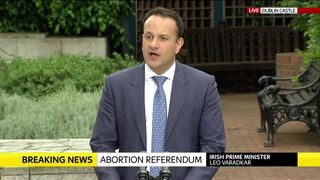 The chair of the Commons health select committee said "at the very least" there should be a referendum in Northern Ireland, because "times are changing, opinions are changing".
Addressing concerns a move to reform abortion laws could create a political crisis for Mrs May, Ms Wollaston said: "Although we have a confidence and supply arrangement with the DUP, we're not in coalition with the DUP.
"As I say, these things tend not to be party political issues, there's long been free votes on the issue of abortion
Labour MP Stella Creasy said more than 140 parliamentarians had already signalled their support for reform.
Lib Dem leader Sir Vince Cable said: "The position in Northern Ireland is now highly anomalous and action will now have to be taken. Theresa May cannot remain silent on this issue.
"Since there is, effectively, direct rule from Westminster, the UK government has the responsibility. It can and should take the opportunity to deal with this issue properly."
But while political leaders in the Republic were front and centre of efforts for a Yes vote, a majority of politicians in Northern Ireland do not back the changes now proposed south of the border.
Mrs May is yet to address the calls for abortion reform in Northern Ireland, but it is understood Downing Street believes any reform "is an issue for Northern Ireland".
"It shows one of the important reasons we need a functioning executive back up and running," a source said.