Abortion campaigners back #hometovote with cash offers
The country will decide on Friday whether to change its constitution, which currently means that every day many women are forced to go abroad for terminations.
The hashtag #hometovote has been mobilised by Yes supporters who want to get as many people as possible casting their vote.
One Twitter user encouraged people to get in touch if they were short of money to make it back to Ireland.
Hey, if you're an Irish woman in the UK who wants to travel #hometovote (and #VoteYes) to #RepealThe8th but can't afford to, I'll cover your travel cost (for a limited number of people, sorry). DMs are open.

— Accelerated Decrepitude (@hythloday) May 23, 2018
Irish working in the UK: if there is anyone who can fly home to vote on Friday but doesn't have the money, please DM me – I will pay for your flights home as I can't come home myself. #HometoVote#Repeal8th#TogetherForYes

— Alice Murphy (@alicemurphy13) May 23, 2018
I can't vote (lived abroad too long).

I haven't canvassed (I live in London).I haven't been shouted at, spat at, had doors slammed in my face. I *can* offer lifts to Heathrow/ London City airports on Friday AM. #HomeToVote#Repealthe8th *for Savita & all Irish women* pic.twitter.com/4nr3OvHa9J

— Helen O'Rahilly (@HelenORahilly) May 23, 2018
Alice Murphy made the same offer to Irish citizens in the UK because she is unable to travel.
Helen O'Rahilly referenced the abuse that some women seeking abortions have experienced – as she offered lifts to London airports.
David Healion and Sarah Sweeney were two of many Twitter users saying flights to Ireland were busy with Yes campaigners – some of whom were wearing "repeal" jumpers.
"The number of young people coming home to vote is amazing – my son's friend had to pay €400 for flight (normally €50) 'cos he left it late – that's admirable," tweeted Lucinda O'Sullivan.
While many are travelling relatively short distances, Ciaran Gaffney said he was flying 13 hours from Argentina to have his say.
Boarding a 13 hour flight from Buenos Aires to London. London to Dublin tomorrow. No one at airport knows what my repeal jumper means. No one here knows why I'm travelling. If this feels isolating for me, can't imagine how lonely it must be 4 her, travelling 2 the UK #HomeToVote

— Ciaran Gaffney (@gaffneyciaran) May 22, 2018
There has been a big surge in voter registration ahead of the referendum.
If people vote to repeal, the Irish government is proposing that women could access termination within the first 12 weeks of pregnancy.
After that, abortions will only be allowed until the 24th week of pregnancy if there is a risk to a woman's life, or a risk of serious harm to the physical or mental health of a woman.
Terminations would also be permitted in cases of fatal foetal abnormality.
Under the current law, an unborn child has the same right to life as the mother with the maximum penalty for accessing an illegal abortion 14 years in prison.
:: Think of your own daughters say parents of Savita Halappanavar
It is an issue that has divided generations, counties and families.
The leader of the Catholic Church in Ireland told Sky News the vote was not about religion but about human rights and equality.
Archbishop Eamon Martin said: "The last big referendum in Ireland was an equality referendum, talking about marriage equality, and yet this particular referendum is to remove equality from our constitution.
"It's a rather amazing situation that we're going into the constitution to remove a right and we're actually going in there to remove the fundamental right to life from all unborn children."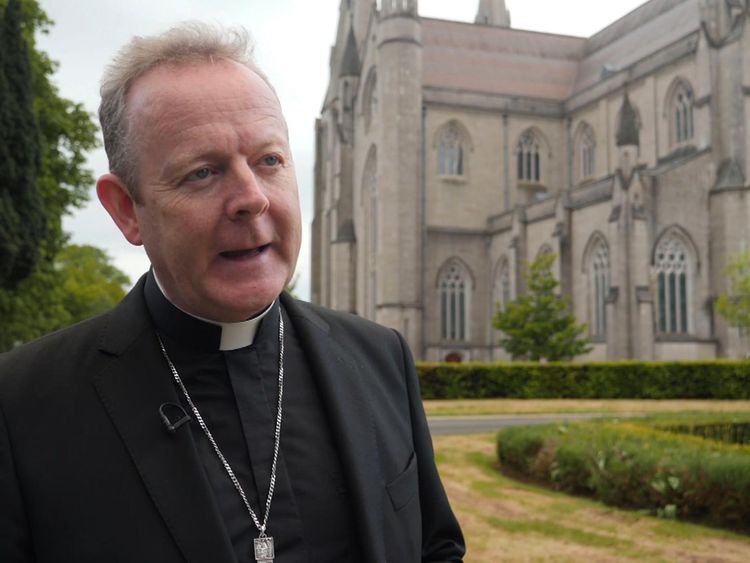 'No' campaigners also fear that prenatal screening teamed with legal abortion could lead to the eradication of people with Down's syndrome if the Irish constitution is changed.
They point to countries like Iceland, where they suggest the number of fetuses diagnosed with Down's syndrome aborted is close to 100%.
Campaign group Save The 8th claim politicians are "effectively seeking a licence to kill pre-born babies, and to introduce an abortion model that is in many ways even more extreme than the British regime".
It says the current law protects the mother as much as the baby, and deny the rules have ever stopped doctors giving a woman life-saving treatment when she needed it.