Abandonment, stigma and fear among children over the Ebola epidemic in the Democratic Republic of the Congo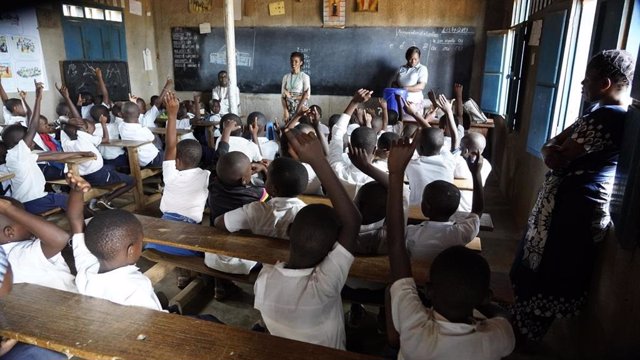 Class in Democratic Republic of Congo – WORLD VISION
MADRID, Jan. 9 (EUROPE PRESS) –
Children who suffer or attend the Ebola epidemic in eastern Democratic Republic of the Congo have recognized feelings of abandonment, fear and stigma, according to a survey prepared by the NGO World Vision, which has called for redoubled psychosocial support to the population affected.
The humanitarian organization has interviewed 139 children and 129 adults in six areas of the North Kivu region, the epicenter of an epidemic that, according to the World Health Organization (WHO), has already caused more than 2,200 deaths in the last year and medium.
"Our hope for the future? A life without Ebola and in peace," says a girl interviewed in Kalunguta, looking towards a horizon where she hopes to leave behind the current instability, both medical and safety. The eastern part of the DRC has suffered in recent months a rebound in violence that has complicated assistance tasks.
However, the main conclusions of the 'Fear and Loneliness' report revolve around the perception that these children have of their life and that of their community about the epidemic. 61 percent of children believe that those who have been orphaned after the virus arrived in their family feel abandoned, while more than half of adults knew cases of neglect.
Seven out of ten children consider that children survivors of the disease feel marginalized by friends and one in three believes that this marginalization also extends to the family. Not surprisingly, stigma is one of the main blunders of a disease that continues to mark even after being discharged.
A girl from Beni has explained that she would receive a former patient "if people from the community testify that they have seen the results of the tests in which she is assured that she is recovered" or "if medical workers arrive and present the person" in society.
Another minor from the same city acknowledges that there are "many people afraid of approaching children who have recovered from Ebola and affected homes." Since the beginning of the outbreak, "we have no access to several games because parents have forbidden us to play for fear of being infected," he explains.
The director of World Vision in the African country, Anne-Marie Connor, has stressed that the study clearly "shows" that children "are afraid, suffer and are worried about how to survive after the death of their parents."
"I am deeply concerned about what is happening in the east of the DRC because children are suffering multiple challenges such as measles and reprisals from armed groups, which have already claimed many more lives than Ebola. Children tell us they need help, "he added.
Connor has called for "long-term investment to address the systemic problems that have left 12.8 million people in need of humanitarian assistance." However, the increase in funds is not the only recommendation of the NGO, which calls for more psychosocial support and specific help for survivors.