A young man loses an eye due to the impact of a tear pump fired by police in Santiago, Chile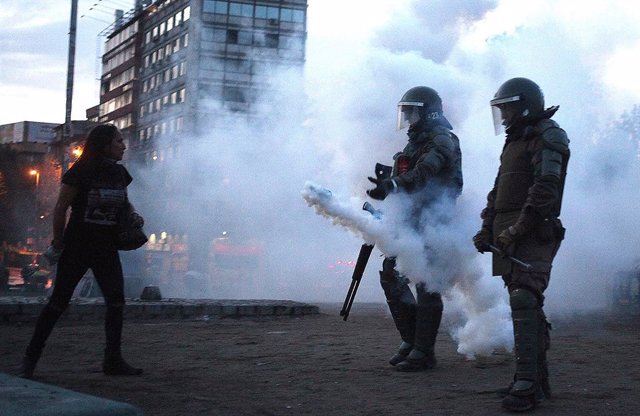 Protests in Chile. – AILEN DIAZ / AGENCIAUNO / AILEN DIAZ / AGENCIAUNO
The NHRI will complain about a similar case in Valparaíso
MADRID, Jan. 3 (Agency One / EP) –
A young man, identified as Diego Andrés Lastra Tapia, has lost his left eye due to the impact of a tear gas bomb fired by police in the context of protests in Chile since October 17.
The event took place on December 31 in Plaza Italia, epicenter of the mobilizations that take place in the Chilean capital, Santiago. Carabineros fired a tear bomb at the young man at close range.
On the other hand, the director of the National Institute of Human Rights (NHRI) of the Valparaíso region, Fernando Martínez, announced on Thursday that the agency will take legal action in the case of another protester injured in the same circumstances that same day, Matías Orellana
"The injuries that he has legally correspond to serious, very serious injuries, and of course that in these cases we will file the corresponding judicial and administrative actions," Martínez said.
He has also denounced that the shooting of tear shells at the upper part of the body by police officers is not an isolated event.
According to an NHRI report, a total of 359 people have been injured in the eyes in the protests. Of these, 336 have suffered injury or trauma and 23 the outbreak or loss of the organ. According to the agency, 3,557 people have been injured during the demonstrations, in which the repression of police officers is being severely criticized.
Protests in Chile erupted against the fourth rise in the price of the subway in a few months and grew rapidly to denounce social inequality and raise the need to develop a new Constitution.
The president, Sebastián Piñera, who came to declare the state of emergency deploying to the Armed Forces, apologized for not hearing the clamor of the Chileans and proposed a "social agenda." To make it happen, he remodeled the Government and initiated a dialogue with the political parties, both opposition and official.