A US federal judge blocks the use of Pentagon funds to build the wall on the Mexican border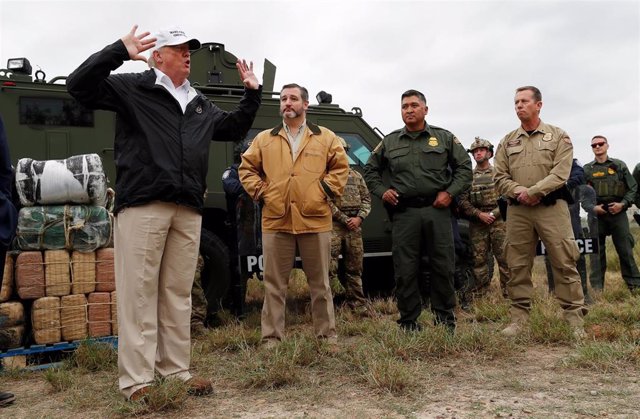 Donald Trump in Texas after visiting the wall with Mexico – REUTERS / LEAH MILLIS – Archive
WASHINGTON, Dec. 11 (Reuters / EP) –
Federal judge David Briones on Tuesday blocked the use of $ 3.6 billion of the Department of Defense by the administration of the US president, Donald Trump, for the construction of a wall on the border with Mexico.
The court order prohibits the Administration from using these funds to make walls or barriers on the southern border of the country. This is a serious blow to Trump, whose Administration has committed to building at least 720 kilometers of wall before the end of November 2020, when presidential elections will be held.
The New York tycoon has defended that the wall will stop the passage of migrants from Mexico and Central America, an issue that has been the cornerstone of his Presidency.
In this sense, the president has repeatedly said that the wall is necessary to end the drug and crime that enters the country through the border.
In February and after a long political battle and a government shutdown, Congress approved $ 1.380 million for the construction of "basic pedestrian fences" along the border in southeast Texas, much less than what I wanted Trump
To get the rest of the money, Trump declared a state of emergency and his Administration said he planned to divert $ 601 million from the Treasury Department, 2,500 for the Department of Defense's anti-narcotics programs and 3,600 for military infrastructure projects.
Given this situation, the House of Representatives, together with a dozen states, have requested that the transfer of funds be blocked to avoid the construction of the wall.
The interim National Security Secretary, Chad Wolf, said during a press conference in mid-November that at the moment about 133 kilometers of wall have to be built under the Trump Administration and that another 246 kilometers are being built.
"The president has been clear," said Wolf, who said they will "build the wall." "He is keeping his promise," he added.