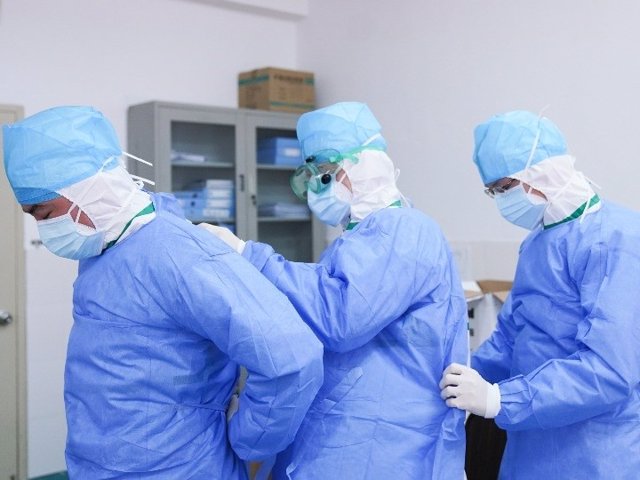 Medical workers help each other to wear protective suits against the coronavirus. – XIAO HEYONG / XINHUA
MADRID, Feb. 8 (EUROPE PRESS) –
The Japanese Minister of Health, Katsunobu Kato, has confirmed this Saturday that there have been three more cases of the new coronavirus, so there are already 64 affected, in the cruise ship 'Diamond Princess' in which 3,711 people travel up to 56 nationalities different and currently in quarantine in the port of Yokohama.
A total of 64 cases of the new coronavirus on the Japanese cruise ship with 3,700 people aboard
The three passengers, two Americans and one Chinese, have left the cruise and have been hospitalized. With these three cases, the number of people affected in Japan has reached 89, according to the Japanese news agency Kyodo News.
The origin of the spread of the infection on board comes from an 80-year-old man who landed in Hong Kong on January 25. The Government of Japan asked the cruise passengers and the crew, from 56 different countries, to stay on the ship for two more weeks from Wednesday.
The outbreak of the new coronavirus has already left 722 fatalities and 34,546 affected in China. Although China is the epicenter of the outbreak and the most affected country, the coronavirus has already spread to other countries in Southeast Asia and cases have also been detected in Europe and America.
Common signs of infection include respiratory symptoms, fever, cough and shortness of breath. In more severe cases, the infection can cause pneumonia, severe acute respiratory syndrome, kidney failure and even death.
In 2003, more than 600 people had died in China because of the outbreak of SARS or acute respiratory syndrome that was first detected in 2002, while the global figure reached 765 deaths.