A network of midwives extends across rural areas of Afghanistan
MADRID, 31 Aug. (By Blanca Ariño, World Vision Communication) –
At first glance, it looks like any kind of ordinary medicine: a room full of women, all with blue uniforms, pens and notebooks in hand, while listening to their teacher. But once the 37 women have completed their studies, most will go home to become the first matron of their village.
At the Herat Institute of Health Sciences, the World Vision NGO trains women to be midwives. It is the largest health program in the city where, since 2004, more than 300 midwives have been trained.
Herat is a province in western Afghanistan that has a population of approximately two million people, and although the majority of the population is concentrated in the capital, the province extends over large rural areas. When births become complicated, being within walking distance of the nearest hospital can be very dangerous, even deadly.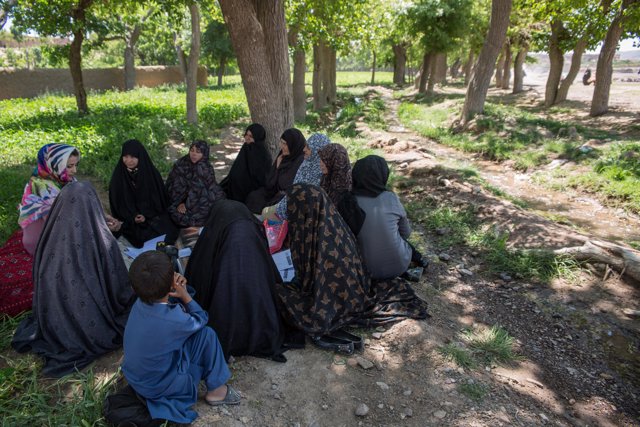 World vision
The training program, which enrolls women between 18 and 35 years old, works on the condition that young women return to their villages and villages once they have finished their studies, with the aim of helping to expand the midwifery network in the Afghan rural provinces and thus reduce maternal and child mortality.
After graduation, they receive the necessary instruments and are paid a salary of up to one year. "Initially it is World Vision who pays the salary, but we are working to make the Government the one who takes charge," explains Soraya Faiz, teacher of the class and one of the first graduates of the program.
Soraya, after finishing her studies 13 years ago, worked as a midwife for four years in various clinics before assuming the teaching role in the World Vision program.
Atefeh Jeboria, 17, is one of the students in the program. Originally from a town about 30 kilometers from Herat, she says she has seen too many mothers and babies die in recent years. "We have no clinic and many times, when there are complications, it is too late to go to the city," explains the young woman. "I started thinking about being a midwife when I saw my relatives die in childbirth. I knew that those deaths could be avoided," he adds.
The village of Atefeh is a rural community with unpaved roads, mud houses, two schools, one for boys and one for girls, but there is no trace of medical facilities or pharmacies.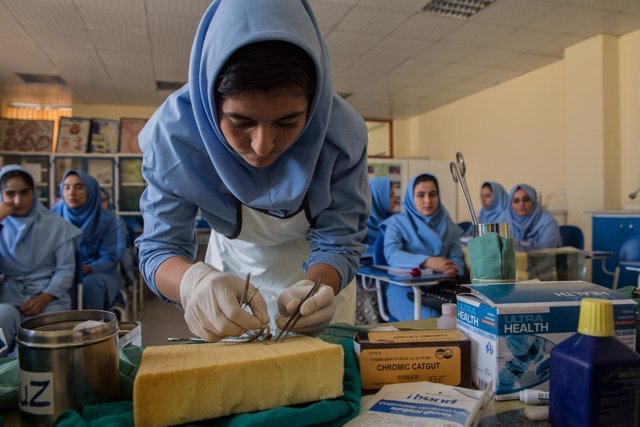 World vision
"When a village elder approached me to ask if I was interested in being a midwife, I saw a great opportunity to help my community," says Atefeh, sitting in a chair, outside her class. Since he committed himself two years ago to the World Vision-funded project, he has traveled daily to Herat to attend classes.
"Our study time is very planned. First they teach us theory and then we practice in the laboratory. Then, to finish our training, we go to the hospital where we observe midwives and work directly with mothers and babies," Atefeh proudly says.
Razia Yusefi, 19, joined the program from the hometown of Armalergh, an agricultural community nearly three hours drive from Herat. He lives in a female student residence, on the outskirts of the city, which allows him to have plenty of time to study: "If I lived in my house, I would be doing housework, but here I can only concentrate on my training," he explains.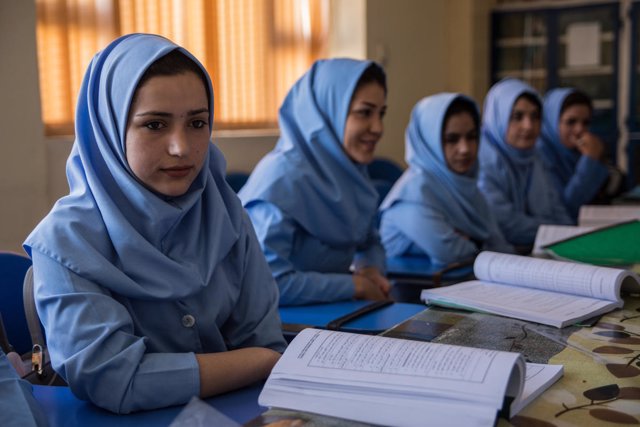 World vision
Razia says it was her father, a religious mullah, who pushed her to study hard and finally allowed her to move to Herat to continue her studies. "I think of my people often and I know that we currently don't have a midwife yet," he says. "I came to Herat with another girl from my town and our community was excited to send us away to be midwives," says Razia.
"Driving through Armalergh is dangerous," says the young woman, "there are no real roads and if you have a car, driving is very dangerous." "Therefore, many women do not seek medical attention when they go into labor. I think the situation will change when we return to our village and inaugurate the clinic to attend births," he says. "And this is what all our classmates will do in their towns and villages," he adds.