A judge raises prison sentences to several satirical artists for mocking the Burmese Armed Forces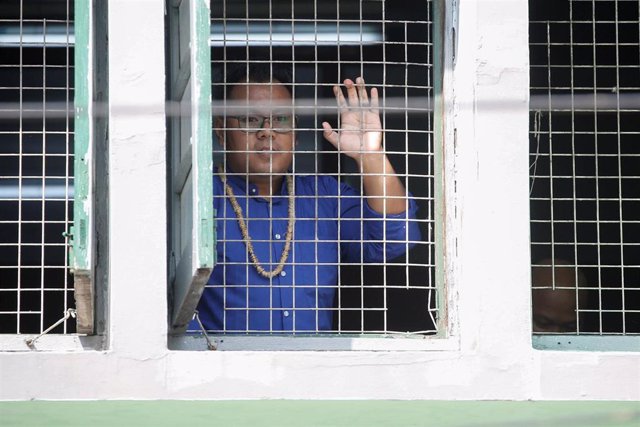 Paing Ye Thu, a member of the Peacock Generation satirical company, greets the press from a Yangon court – REUTERS / ANN WANG
RANGÚN, Nov. 18 (Reuters / EP) –
A judge in Burma has decided to extend the sentences imposed on a group of satirical artists for mocking the Burmese Armed Forces during a performance, a case that has raised concerns about the situation of freedom of expression in the country.
Seven members of the satirical group Generation of the Peacock were arrested in April after participating in Thangyat, a multi-century-old festival that mixes poetry with satirical performances about the mistakes and hobbies of Burma's political and social class.
During the live performances broadcast on the social network Facebook, the satirical artists of Peacock Generation criticized the Burmese Army for its continued role in the political scene and showed images of a dog dressed in military uniform.
Five members of the company were sentenced in October to one year in prison with forced labor for disallowing the Armed Forces. This Monday, a court in Rangoon, the commercial capital of Burma, has increased prison sentences imposed on five of the Peacock Generation artists, which have been denounced in several locations for their actions. The sentences will be met concurrently, so the poets will spend 18 more days in prison, as explained by his lawyer, San San Myint.
The sixth member of the company that was arrested has been sentenced to one year of forced labor and another member has been acquitted. Some of the members of the satirical company face additional charges in application of the Telecommunications Law, which punishes defamation cases online. All satirical artists who have been denounced have denied incurring irregularities.
The Burmese Armed Forces ruled the country with an iron fist for almost 50 years until they gradually witnessed a civil government in accordance with the 2011 Constitution, drafted under the supervision of the high military commanders.
Amnesty International has condemned the court ruling as a "relentless attack on freedom of expression." "These new sentences against the Peacock Generation are signs of a relentless attack on freedom of expression in Burma," said Nicholas Bequelin, a researcher at Amnesty International.
"It is absurd that these actors still have to face more charges and prison sentences in the future. The authorities have to put an end to this madness and release them all immediately and without conditions," he stressed.
Paing Phyo Min, one of the artists, has spoken before the press in court with the blue prison uniform and his ankles chained. "The Armed Forces, who imprison and denounce people, are an institution without dignity," he said. "Such an institution without dignity is bad for our country," he concluded.