A first contingent of 224 doctors from Bolivia arrives in Cuba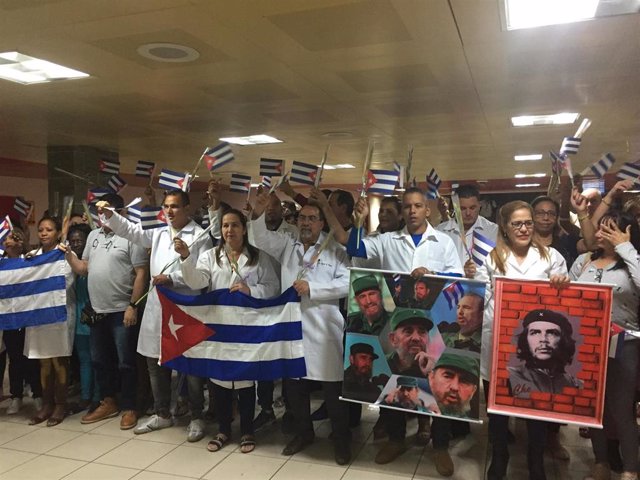 A first group of 224 doctors returns from Bolivia to Cuba. – TWITTER MINISTRY OF PUBLIC HEALTH OF CUBA
MADRID, Nov. 17 (EUROPE PRESS) –
A first group of 224 employees that made up the Medical Brigade in Bolivia have returned to Cuba after the Government of Miguel Díaz-Canel decided to withdraw a total of 725 professionals, especially from the health field, from the Andean country in the framework of the new bilateral relations that he wants to maintain with the island.
"The first group of 224 Cuban collaborators who made up the Medical Brigade in Bolivia returns to Cuba with the satisfaction of having written beautiful pages of solidarity in this nation," the Cuban Ministry of Public Health announced on its Twitter account.
In this line, the Cuban Public Health Minister, José Ángel Portal, has also expressed his emphasis on the fact that professionals "return to their homeland with the pride of duty fulfilled", as he has written in the same social network.
The vice-president of the Council of Ministers of Cuba, Roberto Morales, and the country's foreign minister, Bruno Rodríguez, also attended the reception of the 224 professionals. Both have influenced the "solidarity" and "meritorious work" that the collaborators have done in the Andean country.
Cuba decided to withdraw 725 professionals from Bolivia after Bolivian Foreign Minister Karen Longaric specified that there was "a series of accusations against Cuban citizens that they would have been acting in these aggressive movements that have tormented society" . In this context, Cuba chose to withdraw the collaborators "so as not to make the situation worse."
In addition, Bolivia detained four members of the Medical Brigade in El Alto last Wednesday accused of inciting violence, but were released this Saturday.
The political crisis in Bolivia broke out after the presidential elections held on October 20. Morales proclaimed his victory while the opposition denounced a "gigantic fraud." The audit of the Organization of American States (OAS) has confirmed "irregularities."
Morales resigned on Sunday and arrived in Mexico on Tuesday as a political asylum. Áñez has proclaimed himself interim president to avoid the power vacuum left by the resignation of the indigenous leader and other senior officials, ensuring that his goal is to hold new elections.