A fire in the Chilean city of Valparaíso destroys dozens of homes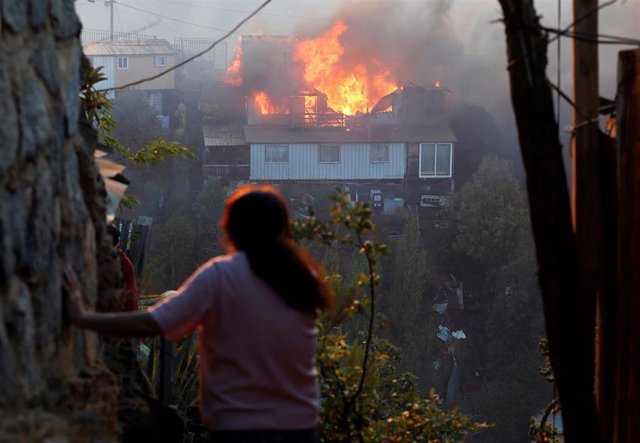 A house burns due to a fire in Valparaiso – REUTERS / RODRIGO GARRIDO
An uncontrolled fire in the Chilean city of Valparaíso, in the center of the country, has destroyed dozens of homes on Tuesday, while firefighters fight to control it, authorities said.
The governor of Valparaíso, Gonzalo Le Dantec, has said that at least 80 homes have been affected by fire, according to the newspaper 'La Tercera'.
Meanwhile, Chilean Agriculture Minister Antonio Walker has detailed to CNN Chile that the number of homes affected amounts to 120.
The inhabitants of the houses, which celebrated Christmas, have been forced to leave their homes urgently, losing all their belongings and even pets, according to a Reuters witness.
"The entire Valparaíso Fire Department with support from neighboring units is deployed in #SanRoque by fire that currently consumes approximately 50 houses," said firefighters, adding that they continued with the evacuation of two other sectors.
At least 40 hectares have been affected by the incident, initiated in a forest area but which has expanded to populated sectors. In addition, fire threatens the city's electricity supply lines.
The mayor of Valparaíso, Jorge Sharp, has said that "emergency teams throughout Valparaíso work, with air and land resources, in two simultaneous outbreaks in the upper part of the city."
Also, the Chilean president, Sebastián Piñera, has lamented "deeply" the fire through his account on the social network Twitter.
"We deeply regret the fire that affects so many families in the hills of Valparaíso and especially on Christmas Eve," said Piñera.
"With the Intendancy of the Valparaíso region we are relentlessly together with the National Forestry Corporation, the National Emergency Office of the Ministry of Interior and Public Security (ONEMI), Firefighters and Armed Forces to put out the fires," he added.