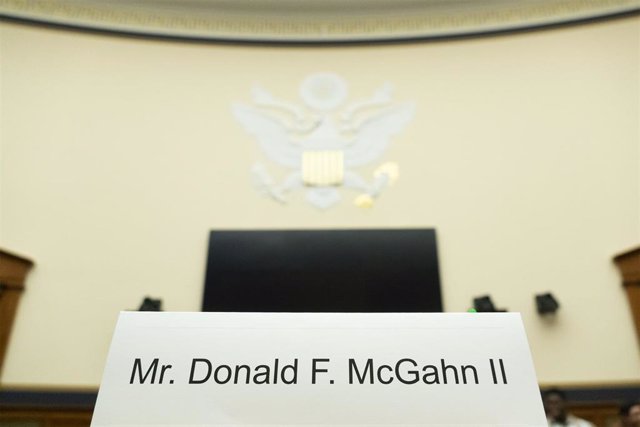 Poster with the name of the ex-lawyer of the White House Don McGahn who refused to testify before Congress. – Stefani Reynolds – Archive
MADRID, Nov. 26 (EUROPE PRESS) –
US federal judge Ketanji Brown Jackson has decided on Monday that the ex-lawyer of the White House Don McGahn testify before the House of Representatives of the Congress in the context of the impeachment process against the president, Donald Trump, who has tried at all costs of preventing him from appearing before the Chamber.
"However busy or essential a president may be, and however close he may be to national security projects, the president does not have the power to excuse himself or others when taking the measures required by the legislation, "said the judge.
"In a nutshell, the main conclusion of the last 250 years of American history is that presidents are not kings," he said, according to a document to which the local television network CNN has had access.
The sentence is a blow to Trump and the White House, who have struggled to block parts of the impeachment process. In early May, the president himself said he would not be willing for McGahn to testify before the Congressional committees mainly because this would open the door for others to be called to testify.
The president of the Intelligence Commission, Adam Schiff, has indicated in a statement that it is the decision of the witness in question to change the course of events if he wants to appear.
"The witnesses who defy Congress for the benefit of the president must decide whether it is their duty to the country or to the president who they believe is above the law," said the Democrat.
The Justice Department has reported shortly after the White House plans to appeal the judge's decision, according to a spokeswoman.
"Don McGahn will comply with the provisions of Judge Jackson unless the appeal is pending," said William Burck, McGahn's lawyer.