A ñ ez vindicates himself as interim president and promises elections "in the shortest possible time"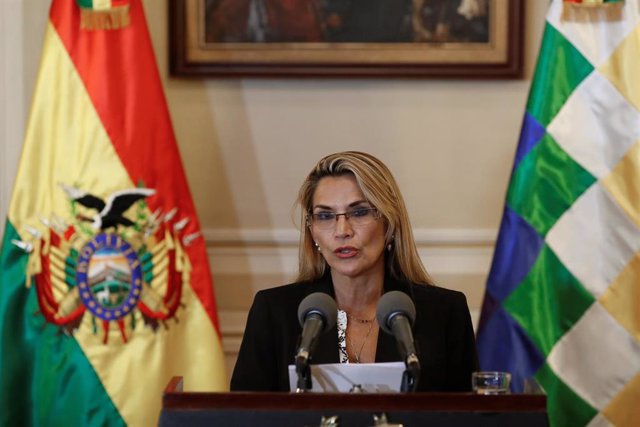 The self-proclaimed interim president of Bolivia, Jeanine Añez – REUTERS / CARLOS GARCIA RAWLINS
Ask the Bolivians to return to their daily routine to recover the "normality" of the country
MADRID, Nov. 13 (EUROPE PRESS) –
The self-proclaimed interim president of Bolivia, Jeanine Añez, has defended her legitimacy on Wednesday, denying the "coup d'etat" denounced by former president Evo Morales and his allies, promising that only the time needed to hold a few will remain in office new elections that put an end to the crisis opened after the last elections.
"In Bolivia there is no coup d'etat, there is a replacement of the constitutional order," said the second vice president of the Senate in a message to the nation, according to local press reports.
In this regard, he recalled that he has received the support of the Constitutional Court, the Armed Forces and the Police "with the sole will to democratically regenerate the country."
Añez has wielded that his interim Presidency is a "replacement of the constitutional democratic order, first interrupted by the 2017 constitutional ruling that annulled the 21-F referendum and finally with the electoral fraud perpetuated the night of October 21".
Consequently, it has advanced that the two objectives of its temporary mandate will be, on the one hand, to repeal the judgment of the Constitutional Court that endorsed Morales to aspire to a new reelection despite the fact that the referendum held on February 21, 2017 closed this way.
Secondly, it has promised "the call for general elections in the shortest possible time, as established by the Constitution," ensuring that it will be a "clean" electoral process in which all citizens who meet the constitutional requirements may participate. ".
Thus, he urged public employees to "immediately return to their posts" and "public office" to "make themselves available to the new Government to arbitrate the succession or continuity in the post" so that Bolivia recovers as soon as possible "normal".
Añez has also wanted to send a message to the international community. "I ask for peace of mind … I have assumed the Presidency to clean up the institutions that perpetuated the fraud. I will not accept any way out of the crisis other than the democratic one within the framework of our laws," he has promised.
In a first executive act, Añez has appointed the new command of the Armed Forces on Wednesday, after holding a series of meetings with the military leadership.
The internal president has also defended this step by asserting that "in these designations the institutionality of the Armed Forces has been respected" because "the best qualified officers have been designated."
In addition, he has underlined the uniformed who take the reins of the armed institution in "a crucial moment" for Bolivia in order to "bring it to fruition and direct it towards new elections."