A demonstration in Hong Kong in favor of the Uyghur minority ends in a pitched battle against the Police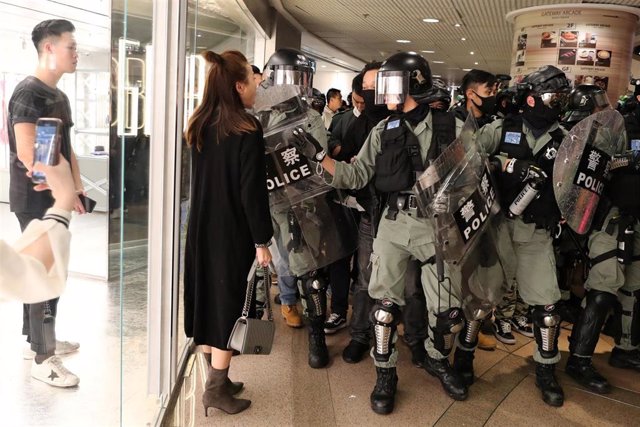 Riots in Hong Kong – REUTERS / LUCY NICHOLSON
HONG KONG, Dec. 22 (Reuters / EP) –
The Hong Kong riot police have used tear gas to disperse groups of protesters concentrated in the financial district of the territory in support of the Muslim minority of the Chinese Uyghurs, in a protest annexed to the marches against the Chinese government that occur in the territory for months.
The march, initially peaceful, ended at a crossroads of stones and cans of tear gas near the port of Hong Kong, where more than 1,000 people congregated in favor of the Uyghurs flying posters with the words "Uyghur free, Hong Kong free" and "China's false autonomy ends in genocide."
According to images collected by the 'South China Morning Post', a policeman even pointed to the protesters with a gun, although there is no record of shooting.
The trigger for the protest was a criticism made by the footballer Mesut Ozil, player of the British Arsenal team. The midfielder, a Turkish-German Muslim, denounced the repression to which the Uighurs are being subjected by the Chinese authorities and praised them as "warriors who resist persecution."
United Nations experts and activists say that at least one million Uighurs and members of other minority groups, largely Muslims, have been detained in camps in Xinjiang since 2017 under a campaign that has been condemned by the United States and other countries. Beijing assures against that these centers are purely formative and denies any abuse to the Uyghurs.
The protests, which began in June, have led Hong Kong's economy to recession. Retailers and businesses have been greatly affected as tourists stay away and transport is constantly interrupted.
In fact, the city's financial secretary, Paul Chan, has warned of a possible wave of business closures by early 2020 if market conditions do not improve. "Many companies are now clenching their teeth and struggling to maintain their business," he published on his blog this Sunday.