A cruise ship with 3,700 people on board, quarantined for the second time in Japan in case of possible cases of coronavirus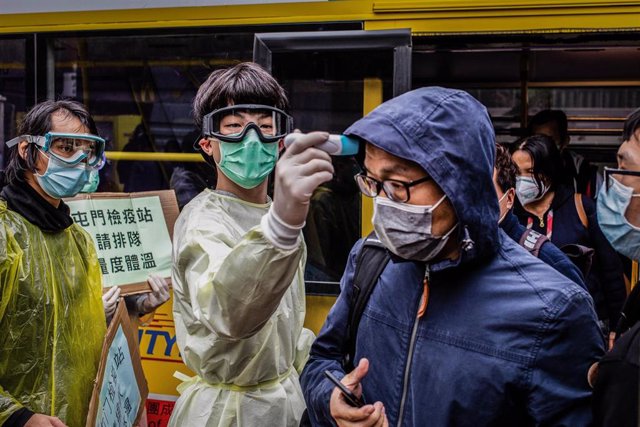 A volunteer takes the temperature of a passenger in China as part of the measures put in place to prevent the coronavirus. – Willie Siau / SOPA Images via ZUMA / DPA
MADRID, Feb. 4 (EUROPE PRESS) –
The cruise ship 'Diamond Princess', with 3,711 people on board, has been put back in quarantine on Tuesday in the Japanese port of Yokohama, south of Tokyo, in case of possible cases of the new Chinese coronavirus after one of the passengers who disembarked in Hong Kong on January 25, it would be positive.
At least eight people aboard the cruise ship have a fever, according to government spokesman Yoshihide Suga, who said that all passengers will undergo medical tests to rule out that they have been affected.
He also explained that the decision to allow passengers to disembark in Yokohama will be made following the guidelines of the World Health Organization (WHO) and respecting the incubation period of the virus, which is approximately ten days.
Once all passengers have been tested, those with fever or other symptoms will undergo additional medical tests to decide whether or not they can leave the ship.
The company, Carnival Japan Inc., has indicated that the departure of the vessel from Yokohama will be delayed at least 24 hours, as reported by the local newspaper 'The Japan Times'. The cruise was subjected on Saturday to another quarantine in the port of Naha, in Okinawa Prefecture.
At least 425 people have already died in China from the outbreak and more than 20,000 are infected in about thirty provinces. Although China is the epicenter of the outbreak and the most affected country, the coronavirus has already spread to other countries in Southeast Asia and cases have also been detected in Europe and America.
Common signs of infection include respiratory symptoms, fever, cough and shortness of breath. In more severe cases, the infection can cause pneumonia, severe acute respiratory syndrome, kidney failure and even death.
In 2003, more than 600 people died worldwide (349 in China) due to SARS or acute respiratory syndrome, which left 5,327 affected in nine months.