8,000 win appeals over benefit cuts across Wales in 2017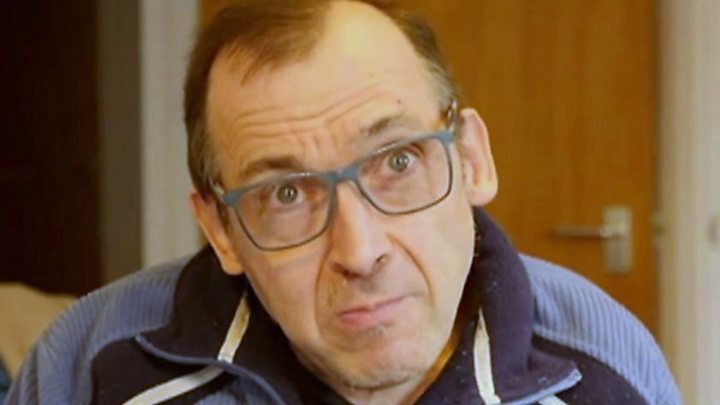 Three-quarters of disabled people who challenged a decision to stop or reduce their main benefit were successful in Wales last year, figures have shown.
A charity said the 8,000 successes "clearly demonstrates fundamental flaws" in assessing disabled people's needs were not being addressed.
The Department for Work and Pensions (DWP) said new evidence could be provided at tribunals.
But one successful claimant warned the issue could drive people to suicide.
Steven Evans from Newport has cerebral palsy, osteoarthritis and is a wheelchair user.
He was sent a letter in January from the DWP advising him to apply for Personal Independence Payment (PIP), which was replacing Disability Living Allowance (DLA).
He said his first application was lost in the post, so a friend helped him fill in a second one.
The DWP said he was sent another three letters advising him to attend an assessment, but he did not see the letters, and even if he had, could not have opened them because of his cerebral palsy.
When his benefits were stopped he asked for all correspondence to be sent to a local charity, so he did not miss any further letters.
But Mr Evans said his Employment and Support Allowance (ESA) payments were also then halted because there were two addresses for him on their system.
As part of his appeal against both sets of payments, his GP said his medical notes stating his abilities meant it was "unethical" that he should endure further investigation relating to welfare payments.
During that time, Mr Evans racked up more than £3,500 of debt as a result of the stopped payments, but has now received all of the money he is owed by the DWP.
However, he feels other disabled people will be at risk of serious mental health problems if the DWP does not do more to check whether removing benefits is appropriate.
"What the hell is going on with the welfare system that is meant to be supporting me as a vulnerable person?" Mr Evans said.
"It's not doing that. People will commit suicide because they're not listening, they're not doing their job with common sense."
The figures, obtained by BBC Wales showed only the south west of England had higher success rates (76%) than Wales while other places around the UK varied between 59% and 68% but had higher numbers appealing.
Mark Atkinson, chief executive at disability charity Scope, called on the UK government to "get a grip" on the situation.
He said: "Disabled people rely on these financial lifelines to live independently and be part of their community.
"Without urgent action, vast numbers will continue to be denied this support unfairly."
A DWP spokesman said: "Decisions are made following consideration of all the information provided by the claimant, including supporting evidence from their GP or medical specialist.
"In the majority of successful appeals, decisions are overturned because people have submitted more oral or written evidence."
What is PIP?
PIPs are for those who need help with extra costs associated with long-term illness or disability and pays up to £139.75 per week.
ESAs, worth up to £73.10 per week, is designed to replace older forms of support, such as incapacity benefit.
Both benefits require an assessment of the claimant – which can include a face-to-face appointment – to decide how someone's illness or disability impacts on the cost of their day-to-day lives.
The DWP said said many people on the old DLA benefit were not assessed for years, whereas PIP assesses people regularly to ensure they receive the right level of help.