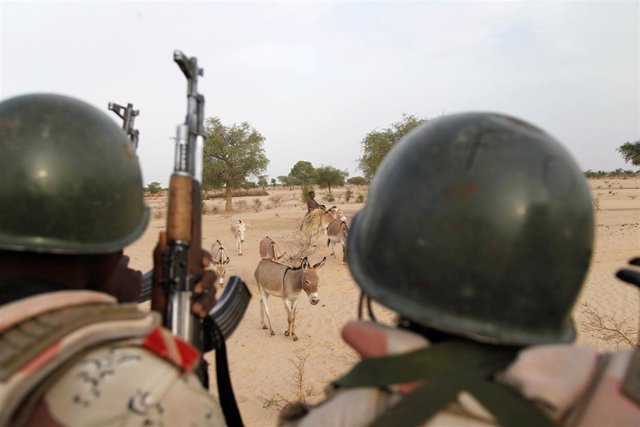 Nigerian soldiers patrol near the border with Nigeria – REUTERS / LUC GNAGO – Archive
At least 70 Nigerian soldiers were killed in an attack carried out on Tuesday night against a military base located in the town of Inates, located in the Tillaberi region (west), security sources confirmed on Wednesday.
These sources, cited by the local news portal L'Evenement Niger, have indicated that dozens of soldiers have been found missing after the attack, whose authorship has not been claimed so far.
70 soldiers die in an attack on a military base in western Niger
The attackers, who sabotaged the communications systems before starting the assault, have caused serious material damage inside the base, located northeast of the capital, Niamey.
Local sources cited by the German news agency DPA have indicated that the attackers arrived at the base aboard motorcycles and vehicles when the military was preparing for afternoon prayers.
The country's president, Mahamadou Issoufou, has shortened his official visit to Egypt to return to Niger after the "drama" in Inates, as announced by the Nigerian Presidency through his account on the social network Twitter.
The Inates base was attacked in July of the same year, an event that resulted in the death of 18 soldiers and whose authorship was claimed by the jihadist group Islamic State in West Africa (ISWA).
This last attack has taken place a day after another assault on a military base in the Tahoua region (west), in which three soldiers and fourteen of the attackers died, according to the Ministry of Defense.
The African country has been the scene of a surge in jihadist violence, especially in the area of ​​Lake Chad – the Diffa region – and on the border with Burkina Faso and Mali – Tillaberi and Tahoua – where several are active jihadist groups, including the subsidiaries of Al Qaeda and Islamic State.