200-year-old Battle of Trafalgar ship's biscuit to be auctioned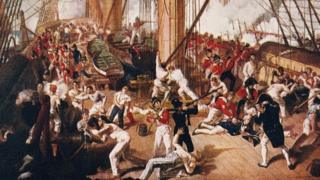 A 213-year-old biscuit dating from the Battle of Trafalgar is to be sold at auction.
The biscuit, which belonged to a sailor on board HMS Defence in 1805, is believed to be the oldest surviving ship's biscuit in the world.
It is thought to predate one from 1852 on show at a museum in Denmark.
Auctioneer Oliver Pepys said it was "remarkable" the biscuit has survived, adding: "I have never seen anything quite like it."
The ship's biscuit belonged to Able Seaman Thomas Fletcher, who was a gunner on HMS Defence. He brought it back with him from his days at sea.
It was kept by the Fletcher family until 2005, when it was bought by a private collector at an auction at Sotheby's in London.
The out-of-date snack is now being sold by Mayfair auction house Dix Noonan Webb along with some of Mr Fletcher's other belongings, including the Matthew Boulton's Trafalgar Medal which was awarded to everyone who fought at the Battle of Trafalgar.
The lot is expected to sell for between £2,000 and £2,600 when it goes under the hammer on 9 and 10 May.
Mr Pepys said the biscuit raised the value of the lot "considerably" and he "would not be surprised" if it fetched around £3,000.
The ship's biscuit thought to be the oldest in the world until now dates from around 1852 and is on display at the Maritime Museum of Denmark in Elsinore, Denmark.
According to the Royal Museums in Greenwich, the ship's biscuit was an important part of the crew's diet at sea before canned food was introduced, with beef in tins officially being issued in 1847.
Also known as "hard tack", they were made of flour, salt and water.
The Battle of Trafalgar, on 21 October 1805, ended the French emperor Napoleon Bonaparte's plans to invade England.
Naval commander Horatio Lord Nelson led the British Navy to fight against French and Spanish fleets outside the port of Cadiz in Spain, near the Cape of Trafalgar.
Vice Admiral Nelson died in the battle but the victory sealed his status as a national hero.