20 people die in clashes between merchants and self-defense groups in the capital of RCA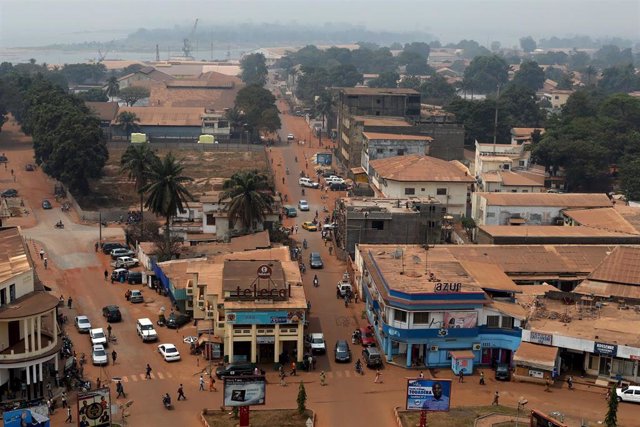 Bangui Overview – REUTERS / SIEGFRIED MODOLA – Archive
MADRID, Dec. 26 (EUROPE PRESS) –
At least 20 people have died from clashes that broke out on Tuesday between merchants and self-defense groups in a neighborhood in the capital of the Central African Republic (RCA), Bangui, which is why the United Nations has called for calm.
The incidents have resulted in about twenty deaths, according to information collected by local radio station Radio Ndeke Luka, although local sources cited by the radio station Radio France Internationale speak of more than 30 deaths.
The origin of the clashes, in which several stores have been set on fire in the Mamadou Mbaiki market, is a dispute over the payment of taxes demanded by the self-defense groups in the PK5 neighborhood, the scene of violent incidents in recent years.
Given this situation, the United Nations Integrated Dimensional Mission for Stabilization in RCA (MINUSCA) has condemned the incidents that, according to their information, "have resulted in dozens of victims."
"MINUSCA asks the protagonists to immediately cease hostilities and show restraint to avoid a new escalation of violence, with disastrous consequences for the civilian population," he said in his statement.
He has also confirmed that he sent to the area "a rapid reaction force to contain the situation" and has advanced that he will send reinforcements, while initiating "discussions" with local leaders and authorities to seek "a quick way out of the crisis ".
"The United Nations reminds the belligerents of the imperative need not to prevent humanitarian access to help victims," ​​he said, while reiterating that "she is prepared to use all the necessary means to protect civilians."
Along these lines, he has lamented that "these unacceptable acts threaten peace and stability" in the African country and has warned against "any attempt at manipulation", before anticipating that "it will support" investigations around the incidents.
"The mission urges populations not to resort to popular justice against the protagonists," he said, while reiterating his call to self-defense groups to "integrate programs to reduce community violence."
The PK5 neighborhood, of Muslim majority – in the city of Christian majority – has been the scene of clashes between self-defense groups such as these and the 'anti balaka' militias.
Thus, in the area groups have emerged that claim to protect the residents concentrated there against efforts to evict them, although MINUSCA accuses them of extorting and committing acts of violence against civilians.
RCA was immersed in a conflict that began at the end of 2013 and faced the Government, the former Séléka rebels – mainly Muslims – and the 'antibalaka' – predominantly Christian – militias.
The country's president, Faustin-Archange Touadera, signed on February 6 a peace agreement with fourteen armed groups that provides for the immediate cessation of hostilities, a process of disarmament and reintegration of militiamen, in addition to a government of unity already formed .