13 Reasons Why: Season two is 'unnecessary', critics say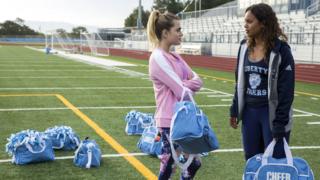 The second season of 13 Reasons Why arrived on Friday, but critics have found plenty of reasons not to watch it.
The first series of the Netflix drama told the story of Hannah Baker, a teenager who took her own life, leaving behind a box of cassette tapes explaining why.
It was praised by some for raising awareness of issues including rape, bullying and self-harm, but there were also concerns that it glamorised suicide and went into too much detail about how Hannah killed herself.
In the second series, a civil lawsuit is filed against the school for failing to protect Hannah.
"There's a lot of dragging through the same stuff all over again," said The Guardian. "But this time without the framework of the tapes and the reasons.
"It's like being locked in a room with a bunch of self-obsessed teens, occasionally saying things like 'the truth can free you if you let it'.
"As drama, this is pointless, cumbersome, baggy, badly written, ponderous and boring."
Before the season premiere, Netflix was criticised for launching it at the time many of its young viewers would be studying for exams.
Helen Rayner of the Royal College of Psychiatrists told The Guardian: "It's well known within children's services that there's an increase in completed suicides and suicide attempts during the exam season. This could cause an increase in suicide rates."
A warning has been added in which cast members tell viewers the show "may not be right" for those struggling with issues such as sexual assault, suicide or substance abuse.
In its one-star review, USA Today said: "We don't need 13 more reasons.
"The second season of Netflix's 13 Reasons Why is a tawdry, unnecessary exercise, a blatant grab for the headlines the teen suicide drama garnered last year.
"The new season tries to make a point about rape culture, slut shaming and sexual harassment, but its depiction of these complex topics has all the subtlety of a sledge hammer.
"If it's meant to start a conversation, as the creators insisted that the first season was, it certainly isn't going to be a very nuanced one."
You may also be interested in:
NME said: "For all that season two gets right, there are as many things it gets wrong."
But, it added: "Ultimately, season two does enough to justify its existence and you'll likely binge-watch it faster than the first.
"Those who say it's run its course are missing the point. 13 Reasons Why was never about one girl's suicide. It's about endemic problems with society and shining a light on the [issues] young people have to deal with on a daily basis."
Entertainment Weekly also found some positives. "Though 13 Reasons Why can sometimes be as exasperating and melodramatic as teenagers themselves, the second season nets out as a success," its critic said.
"It finishes season two as a show you don't so much enjoy as endure and appreciate later – much like adolescence itself."
Deadline said: "With the exception of a solid performance again by the talented Dylan Minnette, the Brian Yorkey-showrun adaptation has run out of gas and source material.
"The return of the young adult drama based on Jay Asher's bestselling 2007 novel is really only justified in Netflix's desire to bulk up inventory and attract and maintain subscribers."
The Hollywood Reporter said: "The second season of Netflix's teen suicide drama is a frustratingly unnecessary mess of bad courtroom antics, stale mysteries and clumsy efforts to bring back Katherine Langford.
"Unfortunately, the season's execution is frequently dismal. And although I didn't feel that the first season engaged in sadness porn or exploitation, I can't say the same for the second. It wallows, especially in later episodes."
But IndieWire defended the show.
"13 Reasons Why features no shortage of missteps. But it's a show that so deeply feels for its characters, so deeply feels these scenarios, that it's hard to be mad at it.
"At its core, it's a show about young people on the cusp of discovering everything good that the world has to offer them, more often than not are slapped down by life's toughest realities.
"The show doesn't offer solutions, but it does offer empathy. And sometimes, that's exactly what's needed."
Follow us on Facebook, on Twitter @BBCNewsEnts, or on Instagram at bbcnewsents. If you have a story suggestion email entertainment.news@bbc.co.uk.