12 Science-Backed Ways to Get Smarter
There are many things we can do at any age be smarter. And they are a lot simpler than you imagine.
A very easy way to get smarter is to believe that it is possible and repeat it every day. Other simple tricks include exercising, napping, and socializing more often. Of course, there are other less orthodox tricks that can get you smarter. For example, researchers in Japan found that riding a motorcycle improved a person's ability to process and store information, while another group of scientists found that the more sex you have, the smarter you are.
Unconvinced? Here are 12 science-backed ways to get smarter.
Remind yourself that you are smart
Image: Justin Lambert | Getty Images
It may sound cheesy, but it's true. Just remembering it and telling yourself that you are smart makes you smarter. A study of professors at Stanford and Columbia Universities found that students who were told they were smart performed better. In the study, one group of students was told they could be smarter while the other group was told otherwise. After the groups were tested, 85% of the first group retained more information, while only 54% of the other group got similar results.
Socialize
Image: Secret Annex Productions | Getty Images
Socializing has a myriad of benefits, from stimulating happiness to improving your physical health. Another benefit of the list is that it increases your intelligence. According to a study by the University of Michigan, people who engage in more social interactions tend to have better cognitive development than those who don't regularly.
chewing gum
Image: bulentozber | Getty Images
When you eat a chewing gum, you may notice a small increase in your brain activity. It also lowers your stress levels and improves your mood. In one experiment, a group of participants was divided into two rooms, one very quiet and one noisy, and asked to focus on one task. In each room, half of the participants were given chewing gum. In the end, chewing gum was linked to better alertness, faster reactions, and fewer distractions.
Take a nap
Image: triloks | Getty Images
Are you tired? Try taking a nap instead of having a cup of coffee. Chances are you will wake up feeling rested and refreshed. That comes from a study by the University of California. Berkley, who examined the academic performance of two groups of students: those who nap and those who don't. In the experiment, each student completed a rigorous study assignment, and the results were relatively similar among members of each group. After the first assignment, one group of students took a 90-minute nap while the other group stayed awake until they were given a second assignment hours later. Participants who took a nap did much better on the second task, and even showed signs of improvement and learning. Those who did not take a nap were slower in their learning processes and their ability to store information was lower.
Have more sex
Image: David Pereiras | EyeEm | Getty Images
That's right, even sex can boost brain development. The more common the sex, the better. In a recent study, a group of adults was asked to answer about their sex life. They were then asked to do a generic test and a positive association between frequency of intercourse and intelligence was found. People who reported having more sexual activity during the week had better test results than others.
Daydreams
Image: EXTREME PHOTOGRAPHER | Getty Images
It turns out that allowing yourself to daydream isn't bad. In fact, letting your mind wander can make you smarter. In an experiment conducted by the Georgia Institute of Technology, brain patterns were analyzed on MRI scans of more than 100 participants. They were then asked to take a test that measured their intellectual and creative abilities. People who dream had better test results than those who did not show this mental pattern.
Play an instrument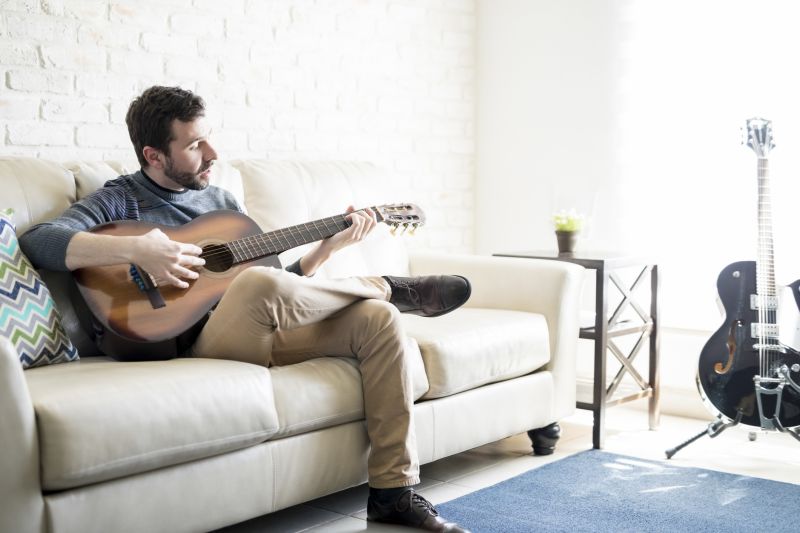 Image: Antonio_Diaz | Getty Images
Don't feel too late to play the guitar or learn to play the piano. Not only does this give you a new hobby, but it can also boost your IQ. According to research, playing an instrument regularly changes the shape of your brain and improves your cognitive skills. This is because the area of ​​the brain responsible for processing and playing music is the same area that controls motor skills, hearing, and memory.
to practice
Image: Pitchwayz | Getty Images
Exercise has a variety of health benefits, including improving your cognitive functions. After studying mice, scientists at the Dana-Farber Cancer Institute and Harvard Medical School discover a specific molecule called irisin, which is produced during exercise. While irisin can protect the brain from deterioration, the researchers found that the more irisin there is in the blood, the more memory and learning genes are activated.
Consume caffeine
Image: dstockrocket | Getty Images
Aside from waking up in the morning, having a cup of coffee can help you think faster. One study found that 200 milligrams of caffeine (the equivalent of a cup of coffee) improves the speed at which people process words. To prove this, a group of adults were given a pill with 200 milligrams of caffeine in the morning and asked to do a series of detection tasks. The researchers found that speed and accuracy improved with the pill compared to results obtained without consuming caffeine.
Smell rosemary
Image: IKvyatkovskaya | Getty Images
Rosemary is not only suitable for cooking. Research has shown that the smell of rosemary can increase your mental alertness and performance. In a 2012 study, a group of participants were asked to complete a series of thinking about numbers tasks before and after they were exposed to the smell of rosemary. In the end, people not only performed better after smelling rosemary, but they also got their chores done much faster.
motorcycling
Image: Alexander Kirch | EyeEm | Getty Images
This may come as a surprise, but according to a joint study by Tohoku University in Japan and Yamaha Motor Co., riding a motorcycle can make you smarter (and reduce your stress levels). According to their study, the area of ​​the brain responsible for memory, information processing and concentration improves when riding a motorcycle.
Writes
Image: inewsistock | Getty Images
And we don't mean typing. When you take pen and paper and write, you will get smarter. According to research from Princeton University and the University of California, students who took notes by hand in class retain more information, have a better understanding of things, and do better on exams than students who just take notes on his computer.